On Friday the benchmark crude oil traded in the central United States (West Texas Intermediate) sold for the same price as the benchmark European crude (Brent). That's the first time that's happened in almost three years. But I don't expect the situation to persist.
Black: price of West Texas Intermediate, in dollars per barrel, weekly Jan 7, 2000 to Jul 19, 2013; blue: price of Brent; green: Brent minus WTI. Data source: EIA. Last entries from Oil-Price.net.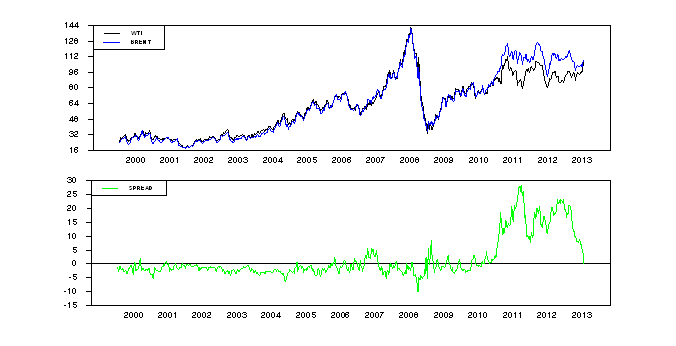 Brent and WTI are very similar products, and historically sold for essentially the same price. But surging production from Canada and the central United States overwhelmed capacity to transport crude out of the hub in Cushing, Oklahoma where existing pipelines carry it. The result was that U.S. refineries on the coast paid the high world price for imported crude, lacking a cheap way to access the product landlocked in Cushing.
Since 2010, infrastructure for transport and delivery of crude to U.S. refiners by rail and barge has grown tremendously. This has narrowed the Brent-WTI spread, but is not enough to eliminate it, since pipelines are an economically more efficient (and environmentally more friendly) way to transport oil.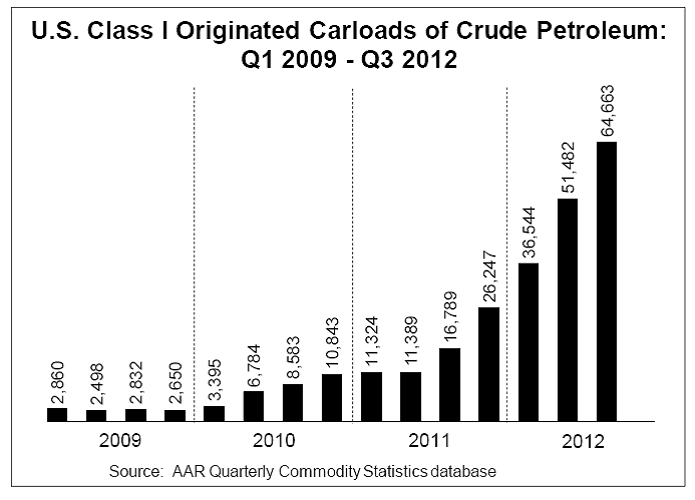 Pipeline infrastructure to deliver more crude oil from the central U.S. to coastal refineries is gradually coming on line. The recently reversed Seaway Pipeline has been carrying an estimated 300,000 barrels a day out of Cushing, and its operators hope to twin it with a second line upping the capacity to 850,000 barrels a day by the end of next year. The reversed Magellan Longhorn pipeline (225,000 b/d capacity) has started carrying crude directly from west Texas to Houston refineries, bypassing the glut in Cushing. Also helping relieve the glut has been the completion of improvements to BP's refinery in Whiting, Indiana, which is now using close to 400,000 b/d of the surplus crude. All this has helped to finally draw down inventories of crude oil in the Midwest to the levels seen in December, though there's still a long way to go.
Commercial inventories of crude oil in Midwest (PADD 2).
Source: EIA.

The Gulf Coast leg of the Keystone project, which can carry an additional 700,000 b/d from Cushing to the coast, is expected to begin operation by the end of the year. But other projects will also likely soon be bringing even more oil from Canada and the U.S. into Cushing. These include 600,000 b/d from the South Flanagan project and another 800,000 b/d that could be delivered through the proposed Canada-to- Nebraska leg of the Keystone project. The latter may never be approved, but the former simply twins an existing line within the United States. Other projects are also underway that would bring even more oil into Cushing. All of this means that the elimination of the Brent-WTI spread may prove to be a short-lived phenomenon.
In any case, although infrastructure for transporting crude within the U.S. is still inadequate, pipelines for refined products like gasoline are better, which means that refined products sell for the same price in America as elsewhere in the world. This is the reason that U.S. gasoline prices tend to track Brent more closely than WTI. A rule of thumb that's held up pretty well is that the retail price that Americans pay for a gallon of gasoline goes up about 2.5 cents for every $1.00/barrel increase in the price of Brent.
Average retail price of U.S. gasoline (black) and price predicted on the basis of price of Brent crude oil (blue). Black: average U.S. price of retail gasoline, all formulations, in dollars per gallon, weekly Jan 10, 2000 to Jul 19, 2013 (data source: EIA).
Blue: 0.84 plus 0.025 times price of Brent, in dollars per barrel, weekly Jan 7, 2000 to Jul 19, 2013 (data source: EIA). Last entries from Oil-Price.net and NewJerseyGasPrices.com.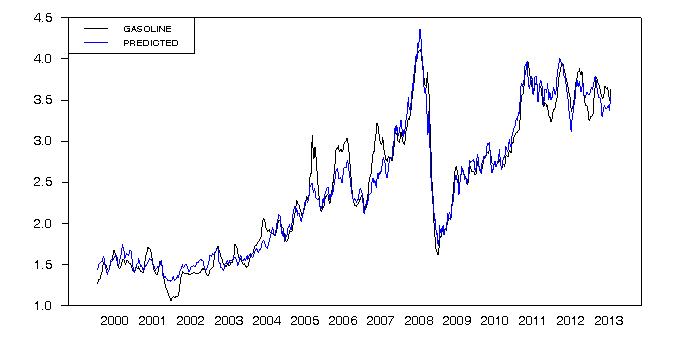 Here's a little calculator you can use to get the predicted gasoline price plotted in blue in the graph above; just enter the current price of Brent to see the predicted gasoline price. The long-run relation says that, based on the current price of Brent at $108.07/barrel, we'd expect the average U.S. retail gasoline price to be about $3.54/gallon. That suggests that U.S. gasoline prices might soon fall by about 14 cents/gallon.
Here's a self-updating reference to the current Brent price if you want to come back to this page to recalculate the expected U.S. gasoline price as the price of Brent changes.
And here is a self-updating plot of the average U.S. retail gasoline price so you can come back to see if I was right.