Key numbers: 79 thousands and 81 thousands
Those are the figures for the shortfall for the 250,000 private jobs commitment made by Governor Walker as of June, and the shortfall predicted for January 2015 by the Wisconsin state government's own forecast in the Wisconsin Economic Outlook, released today. Figure 1 below shows it all.
Figure 1:
Private nonfarm payroll employment in Wisconsin, June release (blue), path of private nonfarm payroll employment promised by Governor Walker (red), and Wisconsin Economic Outlook forecast (green); quadratic match average of WIE forecast (gray-green). NBER defined recession dates shaded gray. Source:
BLS
,
Wisconsin Economic Outlook
(July 2013), NBER, and author's calculations.
Note that the estimated shortfall for January 2015 assumes the 2015 forecast average prevails for January 2015. If one uses a smoothed (quadratic match) version of the annual averages, one finds the forecasted shortfall is 104 thousand.
From the report:
The Wisconsin economy continues to grow at a moderate pace. The forecast calls for growth in terms of jobs and income for 2013 with the economy gaining steam in 2014.

Wisconsin personal income grew 2.7% in 2012 and will increase 1.9% in 2013. Wisconsin personal income growth will then accelerate to 4.6% in 2014 and 4.4% in 2015 and 2016.

Employment in Wisconsin is expected to show positive growth throughout the forecast period, rising 1.1% in 2013, 1.4% in 2014, 1.9% in 2015, and 1.8% in 2016.
For comparative purposes, here is Wisconsin private employment growth compared against the nation's, normalized to January 2011.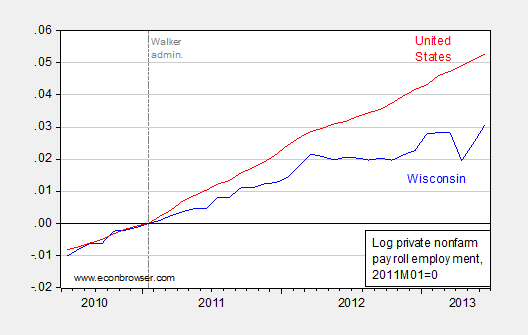 Figure 2:
Log private nonfarm payroll employment in Wisconsin (blue), and in the United States (red), both normalized to 2011M01=0. Source: BLS, and author's calculations.
For some additional discussion of trends in overall economic activity, see here. For some conjecture regarding lagging job creation, see here.