Some thoughts on how choices between monetary autonomy, exchange rate stability and capital account openness — and reserve accumulation/decumulation — relate to macro outcomes.
By now, everybody is aware of the turmoil in emerging markets. Several emerging market currencies have come under severe pressure, with fresh blows coming fast and furious [0]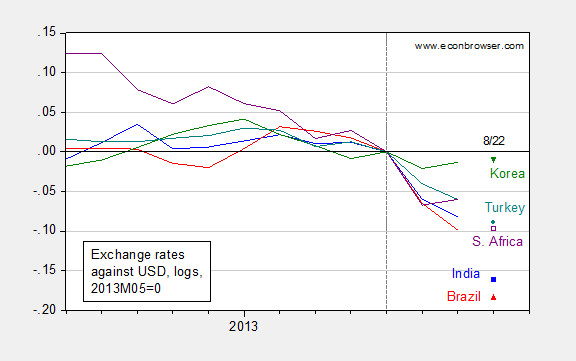 Figure 1:
Log exchange rates against US dollar for India (blue), Brazil (red), South Korea (green), Turkey (teal), and South Africa (purple), normalized on 2013M05=0. August data for 8/22. Source: St. Louis Fed FRED, IMF
International Financial Statistics
, and
Pacific Exchange Service
for August data, and author's calculations.
At the same time, several countries have witnessed their foreign exchange reserves decline, partly due to intervention, partly due to an outflow of financial capital.

Source:
FT
.
A Framework, and Some Empirics
The current stresses are a manifestation of the trilemma, or the impossible trinity: the proposition that a country cannot simultaneously pursue full exchange rate stability, full monetary autonomy, and complete financial openness. In a series of papers, Joshua Aizenman, Hiro Ito and I have evaluated empirically the extent the trilemma has held [1] [2]. (And I recently discussed Klein and Shambaugh's paper on the subject.)
In Surfing the waves of globalization: Asia and financial
globalization in the context of the trilemma (JJIE, 2011), we conclude:
Greater
monetary independence is associated with lower output volatility
while greater exchange rate stability implies greater output volatility,
which can be mitigated if a country holds international
reserves (IR) at a level higher than a threshold (about 20% of
GDP). Greater monetary autonomy is associated with a higher level
of inflation while greater exchange rate stability and greater financial
openness could lower the inflation rate. We find that trilemma
policy configurations affect output volatility through the investment
or trade channel depending on the openness of the economies.
Our results indicate that policy makers in a more open
economy would prefer pursuing greater exchange rate stability
while holding a massive amount of IR. Asian emerging market
economies are found to be equipped with macroeconomic policy
configurations that help the economies to dampen the volatility
of the real exchange rate. These economies' sizeable amount of IR
holding appears to enhance the stabilizing effect of the trilemma policy choices, and this may help explain the recent phenomenal
buildup of IR in the region.
The usefulness of reserves is notable. Referring to Figure 1, the reader will see that the Korean won is one currency that has not been subject to substantial downward pressure. That's likely attributable in part to the relatively large stock of foreign exchange reserves.
The results in Aizenman, Chinn and Ito (2011) pertain to the first and second moments of inflation, and the second moment of output growth. What about output growth in times of crisis. In another paper, Bussiere, Cheng, Chinn and Lisack (2013) (in the process of being revised), we find that higher reserves to short term debt ratios on the eve of the global financial crisis of 2008-09 are associated with higher growth rates in non-advanced economies. From the abstract:
…we can make a three-fold conclusion. First, the
pre-crisis level of foreign reserves has a positive and significant impact on the real GDP
growth during the most recent financial crisis. Although the explanatory power of foreign
reserves is sensitive to the scaling variable, we provide evidence that international reserves
may act as a buffer during crises. In line with the existing literature on early warning
signals, the reserves-to-short-term-debt ratio works best as a reserve indicator.
Second, countries that have accumulated foreign reserves before the crisis have actively
used them either to defend the domestic currency from massive devaluation, to finance
domestic firms which experienced credit crunch or to maintain the market confidence
about the solvency of the country. It suggests that foreign reserves are not only 'nuclear
weapons' but also 'barrels of gunpowder' which can be actively mobilized during a crisis
period.
In the paper we note that India was one of the countries that did not rebuild their reserves in the wake of the global financial crisis. Combined with a current account deficit, it's not terribly surprising that the Indian rupee was so vulnerable.
Some Observations
The reader will note that I have not appealed to special conditions due to the fact that the advanced economies are perceived to be withdrawing unconventional monetary stimulus, rather than conventional stimulus (i.e., raising policy rates). That's because I'm somewhat old-fashioned in my views: easing or tightening monetary policies in core advanced economies forces difficult decisions on emerging market economies, regardless of whether it's done via policy rates or via quantitative easing and/or forward guidance. It's true that the magnitude of effects is less understood, but the impact is conceptually the same. After all, there were similar concerns about push and pull factors in capital flows to emerging markets in the 1990's. (I trace out this argument in this paper presented at the BIS annual conference, and discussed at Free Exchange (Avent)).
I agree with Ryan Avent that one key danger is over-reaction on the part of emerging market policymakers (of course, one only knows that one's over-reacted after the fact…). Our results in Aizenman, Chinn and Ito suggest that exchange rate stabilization should not be slavishly adhered to (in this context, would entail raising policy rates). Of course, our cross-country time series study could not incorporate all sorts of important factors that have to be incorporated into the decisionmaking process — the most important I think is balance sheet effects. Paul Krugman has noted in the Indian case, it's not clear that this is a big worry, given the relatively small amount of external debt (which is mostly denominated in foreign currency). For some other indicators for the East Asian economies, see here. Currency depreciation will also help offset the negative impact of diminished capital inflows.
Finally, a digression. My research suggests that holding large foreign exchange reserves is beneficial for some aspects of macroeconomic performance, and particularly helpful in sustaining growth in times of financial crisis. However, this does not mean that it's always better to have more and more — after all there are costs to holding large stocks of low-yield foreign exchange. And the (rational on an individual basis, in this context) accumulation of reserves has imposed distortions in the global economy. So, the foregoing should not be taken as a prescription for unrestrained reserve accumulation.