From the Daily Herald:
Speaking Tuesday in Arizona, President Obama endorsed the bipartisan efforts of [Senator Bob Corker (R-TN) and Senator Mark Warner (D-VA)] to wind down Fannie Mae and Freddie Mac as a first step in making certain that the nation does not suffer again through a housing finance crisis.

"For too long, these companies were allowed to make big profits buying mortgages, knowing that if their bets went bad, taxpayers would be left holding the bag," Obama said in Phoenix. "The good news is that there's a bipartisan group of Senators working to end Fannie and Freddie as we know them. I support these kinds of efforts."
Let me explain why I also endorse these recommendations.
Fannie Mae and Freddie Mac were both originally created by acts of the U.S. Congress, and have had an ambiguous and varied status as quasi-private, quasi-public entities ever since. The GSEs (for "government-sponsored enterprises"), as they are referred to, engage in two types of activities. First, Fannie and Freddie borrow money which they use to buy up mortgages and hold them on their own account. The debt they issue is not officially recognized as obligations of the U.S. Treasury, but is instead part of a group of securities known as "agency debt" which historically paid a lower interest rate than would have been the case if creditors did not perceive some degree of implicit federal backing of this debt. As of the end of 2009, Fannie and Freddie between them owed over $1.5 trillion in debt (Hamilton, 2013). Second, Fannie and Freddie would issue guarantees on securities they created out of bundles of individual mortgages. In return for providing these guarantees, the GSEs received fees on the basis of which they earned a profit. As of the end of 2009, the combined mortgage guarantees issued by the GSEs and other federal agencies came to an additional $5.4 trillion (Flow of Funds, Table L1).
Mortgages held outright or guaranteed by GSEs and federal agencies increased by a factor of 22 over the last 30 years, growing from 9% of GDP in 1982 to 40% last year, and from 17% of all mortgages in 1982 to 47% last year. Agency and GSE debt and guarantees came to $7.5 trillion as of the end of fiscal year 2012, or 2/3 the size of the entire stock of U.S. Treasury debt held by the public.
Mortgage debt held by government-sponsored enterprises or in agency- or GSE-backed mortgage pools, 1952:Q1 – 2012:Q3, in billions of dollars, as a percent of GDP, and as a percent of all mortgages. Source:
Hamilton (2013).


What did the public gain from the growing role of these institutions in the housing market? Some argue that increasing rates of home ownership might increase society's welfare in a number of ways. Home ownership rose from 64% in 1994 to 69% in 2004, though much of those gains were subsequently wiped out.
U.S. home ownership rate, in percent, 1965-2012, fourth quarter of each year. . Source:
Hamilton (2013).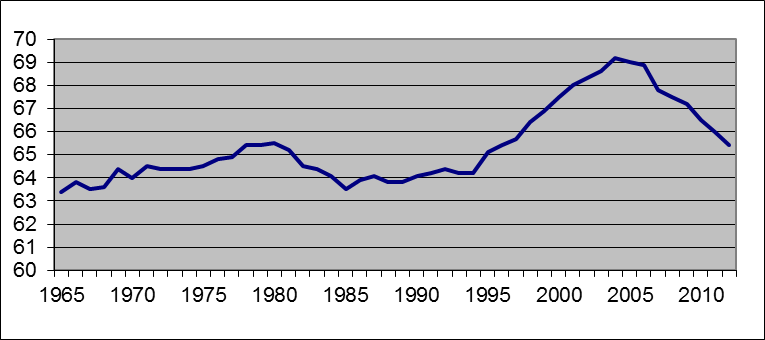 The goal of making housing more affordable can also be elusive. Insofar as improved terms for mortgages increases demand for housing, real estate prices may rise as a result.
I have not seen the details of the specific proposals favored by Senators Corker and Warner or President Obama. If the suggestion is to return Fannie and Freddie to the status of supposedly non-governmental entities, insisting that this time the government really, truly would not bail them out if they get into trouble, I would not support the plan. We tried that idea, and it's just not operational. The notion that a truly private company could plausibly earn its profit by guaranteeing trillions of dollars in mortgages is on its face implausible, because there is no private strategy that could truly diversify or hedge away the risk associated with major aggregate disruptions. What Fannie or Freddie really did was "guarantee" the loans as long as times were good, and count on federal assistance when times were bad.
If instead the proposal is to keep Fannie and Freddie in government receivership, and with that authority gradually slow and eventually stop the GSEs' issuance of new debt and guarantees, then I am all on board.