US, Euro area, and UK GDP Trajectories Compared, and the Expansionary Fiscal Contraction Hypothesis
From Lost Decades: The Making of America's Debt Crisis and the Long Recovery, by Chinn and Frieden:
Sometimes the government needs to step in to counter economic downturns, and in those instances expenditures should exceed revenues. The deepest recession since the Great Depression required an aggressive response from the government. Otherwise, economic activity would have continued to spiral downward, along with tax revenues, and the government would have ended up in a deeper hole of debt.




In the short term, there was no choice but to act decisively, with temporary tax cuts, spending increases, and transfers to the states. And with the economy growing only modestly as recovery began, too rapid a retrenchment in spending and an increase in taxes could very well be counterproductive, throwing the economy back into recession and further accumulation of debt. However, the politics of countercyclical fiscal policy can be perverse, as the Obama administration found. Recessions hit hardest at poor and working-class families, who would benefit most from stimulative fiscal policy. But attempts to undertake these policies face opposition from upperincome taxpayers who are less affected by the recession and more concerned about the impact on their future taxes. This opposition can impede an effective fiscal response to cyclical downturns.
Jeff Frieden and I wrote those words some two years after the collapse of Lehman Brothers. Now we know with even greater force that pro-cyclical fiscal policies, oftentimes couched as austerity measures, can be highly counterproductive. This can be illustrated by reference to the comparative performance of GDP in the US, which has pursued a stimulative (albeit insufficiently so) fiscal policy, especially compared to the UK, and the Euro area.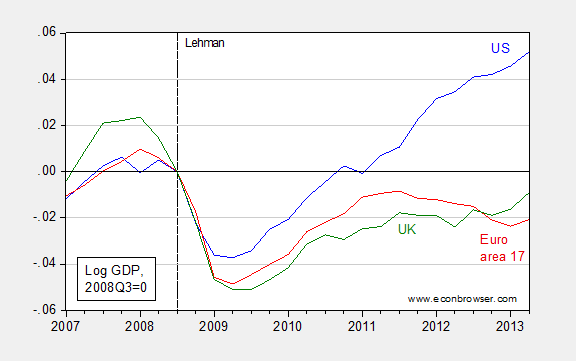 Figure 1:
Log real GDP for the US (blue), Euro area 17 (red), and UK (green), normalized to 2008Q3=0. Source: BEA, UK Office of National Statistics, and OECD via FRED, and author's calculations.
The failure of expansionary fiscal contraction to evidence itself is one of the key outcomes of the experiment that has been conducted over the past five years. But in a way, those of us who were acquainted with the data knew of the unlikelihood these outcomes, as I noted back in 2010.
This is but one lesson learned. Other lessons, I think are: the idea of a self-regulating financial system is a chimera, that quantitative/credit easing does not lead directly to hyperinflation, structural unemployment does not account for most unemployment, and that fiscal policy can be effective in stimulating aggregate demand and hence output. Well, at least most of us have learned them. Others are, like some recalcitrant students, untutorable.
Update, 8:30PM: Reader tj asks which countries have actual declines in government spending. UK government spending in real (CPI deflated) terms declined going from 2010 to 2011 and again going to 2012 (relying on WEO database). For Euro 17, nominal government spending fell from 2010 to 2011;it increased going to 2012, but given CPI inflation, was flat (ECB database). And for the US, here is a plot of real US government spending.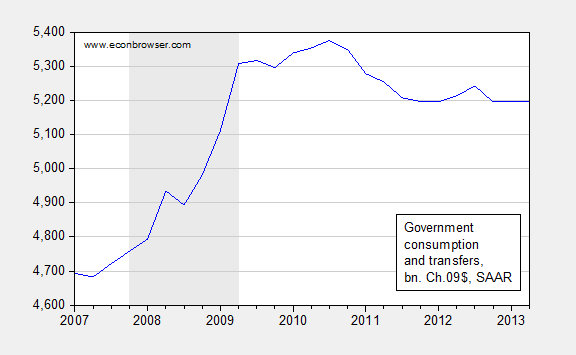 Figure 2:
Sum of real government consumption and government transfers deflated by PCE deflator. Source: BEA, 2013Q2 second release and author's calculations.
So, yes, spending is falling y/y.