After government spending fell, industrial production, GDP, and consumption decline, and unemployment rises.
Reader Patrick R. Sullivan tries to argue that the US economy boomed immediately after the reduction in government spending at the end of World War II.
I find it useful when asserting something to have some facts at hand. Here are data showing what happened as government expenditures rose, in 1941, and as they fell, in 1945.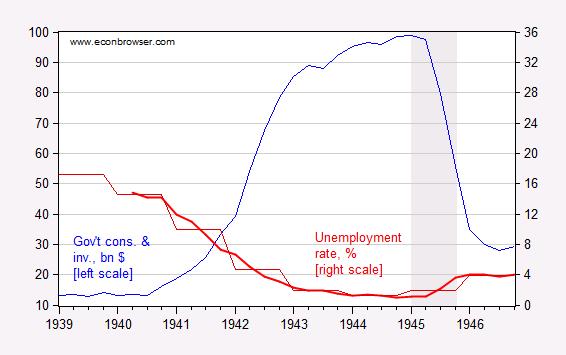 Figure 1: Government consumption and investment spending, at annual rates, in billions of dollars (blue), and unemployment rate (bold red), and annual averages from Lebergott (1957) (red). NBER defined recession dates shaded gray. Source: NBER Macrohistory database via FRED, and Lebergott (1957), and NBER.
Bottom line: Historical data indicate when government spending rose tenfold, unemployment fell from 12% to 1%; when spending fell to about 1/3 of peak, then unemployment rose to 4%.
Update, 4/5 8:25AM Pacific: Mr. Sullivan rules unemployment (as well as GDP) as meaningless during this period. Specifically, for unemployment, he writes that it's a meaningless statistics since so many individuals are in the military. So, I will repeat this Figure from the previous post that sparked the debate — plotting GDP, employment (not unemployment), and industrial production.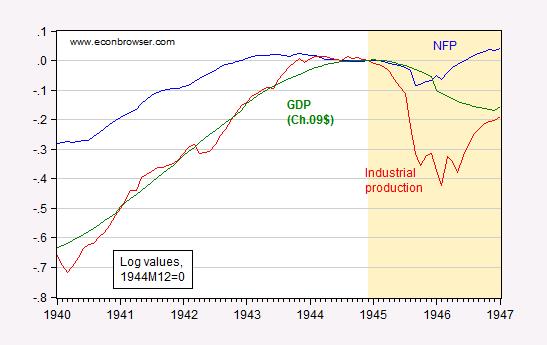 Figure 2: Log nonfarm payroll employment (blue), log industrial production (red) and log real GDP measured in Ch.2009$ (bold green), all normalized to 1944M12=0. Real GDP interpolated using quadratic-match-average. Tan shaded area is 1945 onward. Source: BLS and Federal Reserve via FRED, and Measuring Worth, and author's calculations.
I fully expect a exegesis from Mr. Sullivan on how down is actually up for industrial production and employment.
Update, 4/5 9:25AM Pacific: Now one could define a "boom" by reference to private activity. Here is consumption expenditures, deflated by the wholesale price index.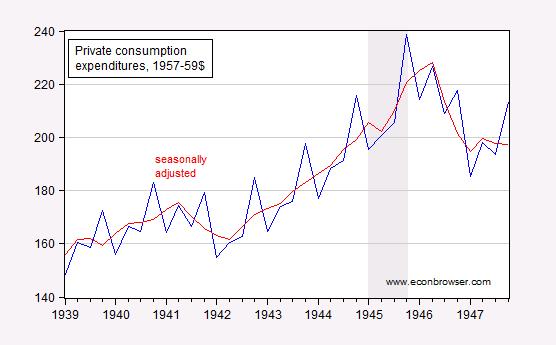 Figure 3: Real consumption expenditures (blue), and seasonally adjusted using ARIMA X-12 over 1939-64 by MDC (red), both at annual rates, in billions of 1957-59$. The deflator is the wholesale price index, 1957-59=100. Source: NBER Macrohistory database via FRED,NBER, and author's calculations.
Note that unadjusted consumption declines after 1945Q4, and seasonally adjusted consumption peaks at 1946Q2.