From BBC:
Russia's central bank has unexpectedly raised its key bank interest rate over concerns about inflation and "geopolitical tension".
The bank's board decided to raise the interest rate by 50 basis points, or half a percent, to 8% per year.

…

The Central Bank of Russia said on Friday that it will raise the interest rate on Monday to ease inflationary pressure.

"Inflation risks have increased due to a combination of factors, including, inter alia, the aggravation of geopolitical tension and its potential impact on the rouble exchange rate dynamics, as well as potential changes in tax and tariff policy," the bank said.

In June, core inflation grew to 7.5%, well above the bank's forecast of up to 6.5% for the year.
This is the third rate hike within the last half year.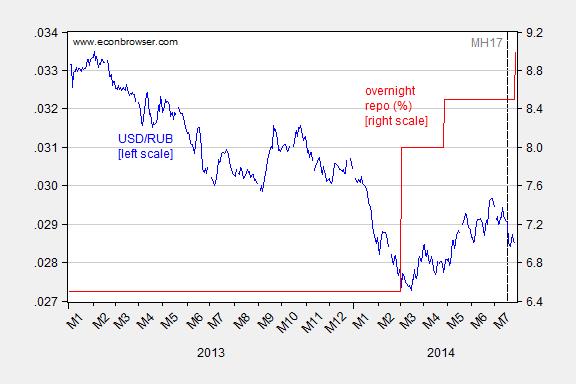 Figure 1: USD/RUB exchange rate (blue, left scale), overnight repo rate, % (red, right scale). Vertical dashed line at 17 July 2014. A rise in the exchange rate is a rouble appreciation. Source: Pacific exchange service, Central Bank of the Russian Federation.
Previous posts on sanctions and Russia, see here, here, and here. The IMF yesterday released updates for the WEO; the July forecast for Russian growth in 2014 (y/y) is fully 1.1 percentage points lower than the April forecast.
Update, 7/26, 12:15PM Pacific: From Reuters, reading the tea leaves:
"Basically … we can expect the key rate to go higher if new risks materialise (for, example, introduction of level III sanctions on Russia and the rouble getting seriously hit), which is not beyond imagination," analysts at Gazprombank said in a note.

The decision indicates Russia is preparing for what may lie ahead, analysts said. "Maybe the central bank has been given the nod by their political masters in the Kremlin that this crisis is still going to get worse before it gets better," Ash, of Standard Bank said.