That's a title from an oped by former GW Bush speechwriter and current AEI scholar Marc Thiessen nearly a year ago. We can now evaluate whether in fact the implementation of individual insurance mandate component of the ACA did implode. From "New Data Show Early Progress in Expanding Coverage, with More Gains to Come," White House blog today: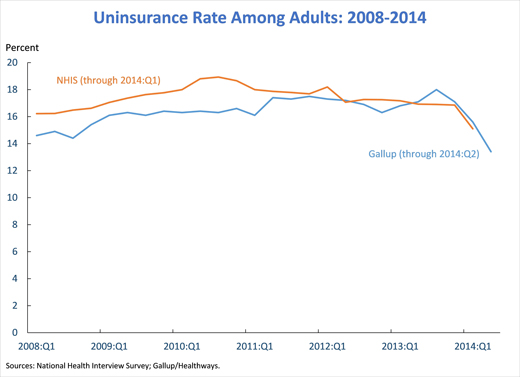 Source: "New Data Show Early Progress in Expanding Coverage, with More Gains to Come," White House blog (9/16/2014).
From the post:
…today's results from the NCHS' National Health Interview Survey (NHIS) show that the share of Americans without health insurance averaged 13.1 percent over the first quarter of 2014, down from an average of 14.4 percent during 2013, a reduction corresponding to approximately 4 million people. The 13.1 percent uninsurance rate recorded for the first quarter of 2014 is lower than any annual uninsurance rate recorded by the NHIS since it began using its current design in 1997.

As striking as this reduction is, it dramatically understates the actual gains in insurance coverage so far in 2014. The interviews reflected in today's results were spread evenly over January, February, and March 2014. As a result, the vast majority of the survey interviews occurred before the surge in Marketplace plan selections that occurred in March; 3.8 million people selected a Marketplace plan after March 1,with many in the last week before the end of open enrollment on March 31. Similarly, these results only partially capture the steady increase in Medicaid enrollment during the first quarter.

For this reason, private surveys from the Urban Institute, Gallup/Healthways, and the Commonwealth Fund in which interviews occurred entirely after the end of open enrollment have consistently shown much larger gains in insurance coverage. An analysis published last month in the New England Journal of Medicine based on the Gallup/Healthways data estimated that coverage gains reached 10.3 million by the middle of 2014.
Some points that will surely annoy some commentators, particularly those who bewailed the early low rates of enrollment of young adults:


Increases in coverage were concentrated among non-elderly adults, with the youngest adults seeing the largest gains: Insurance coverage increased among non-elderly adults increased by 2.0 percentage points from 2013 through the first quarter of 2014, while insurance coverage was essentially unchanged for children and individuals over the age of 65. This pattern reflects the fact that children and older adults had much greater access to insurance coverage prior to reform.Young adults ages 18-24 saw their uninsurance rate drop by 5.5 percentage points from 2013 to the first quarter of 2014, a much larger decline than seen by other groups.

The gains in this report are on top of very large coverage gains among young adults from 2010 through 2013, gains that are largely attributable to a provision of the Affordable Care Act that permits young adults to remain on their parents' insurance policies until they turn 26. From 2010 through the first quarter of 2014, the insurance rate among young adults ages 19-25 (the full group affected by this earlier Affordable Care Act provision) has increased by a total of 13 percentage points.

Blacks and Latinos saw particularly large increases in coverage: Insurance coverage among non-Hispanic blacks increased by 3.8 percentage points from 2013 to the first quarter of 2014, while coverage among Latinos increased by 3.1 percentage points. Both increases were considerably larger than 1.3 percentage point increase in the full population.
Had states like Wisconsin expanded Medicare coverage, the uninsured rate would have declined further.
Returning to Marc Thiessen's prognostications:
President Obama may have no choice but to delay the individual mandate. As my American Enterprise Institute colleague, Dr. Scott Gottlieb, points out, how can Obama penalize people for not having health insurance if the government's Web site to provide that insurance doesn't work?

Without the individual mandate, Obamacare unravels. The only way the law works is if the government forces young, healthy people into it by threatening them with penalties for not carrying health insurance. But if there is no penalty for not signing up, then fewer Americans will sign up.

Even if the administration manages to fix the Web site and finally implement the individual mandate, people still may not join — because the plans being offered are so unattractive. To entice people to join the exchanges, the administration forced insurers to offer low monthly premiums and cover people with preexisting conditions. Insurers have responded by increasing deductibles — the out-of-pocket costs people must pay before insurance benefits kick in — to stratospheric levels.
There must be a special place where people who predict hyperinflation in response to quantitative/credit easing, gold prices always going upward, and the collapse of ACA go to commiserate and convince themselves they are actually right.
Running List of Predictions and Predictors of ACA Collapse (send me your suggestions, so we can be as comprehensive as possible, and induce a little humility into these folks!)