Wisconsin Department of Health Services indicates additional $760 million Medicaid expenditures for FY15-17. [1] This implies a further worsening of the 2015-17 biennium structural budget balance from -$1.8 billion (discussed here) to something like -$2.56 billion.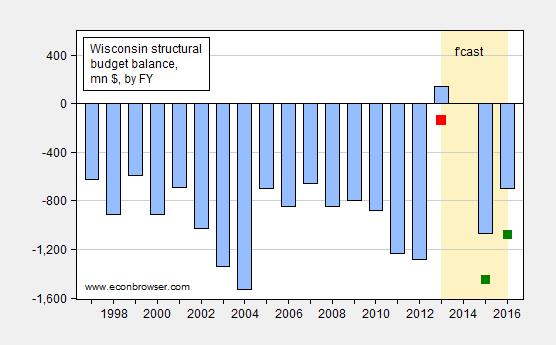 Figure 1: (Negative of) General Fund Amounts Necessary to Balance Budget, by Fiscal Year, in millions of dollars (blue bars); and estimate taking into account shortfall of $281 million for FY2013-14 (red square), and adding $380 million to each of the fiscal years in the 2015-17 biennium (green squares). "Structural" denotes ongoing budget balance, assuming no revenue/outlay change associated with economic growth. Source: Legislative Fiscal Bureau (September 8, 2014), Wisconsin Budget Project, "Wisconsin needs $760 million more for Medicaid," Channel 3000 and author's calculations.
In addition to a deteriorating budget situation, employment and output are lagging [National Journal}. BLS will report Wisconsin August employment on Friday, DWD I am guessing will release figures tomorrow. I do not expect anything to change my view that by January 2015, employment will undershoot Governor Walker's promise of 250,000 net new private sector jobs by about 120,000.