Government borrowing costs are spiking.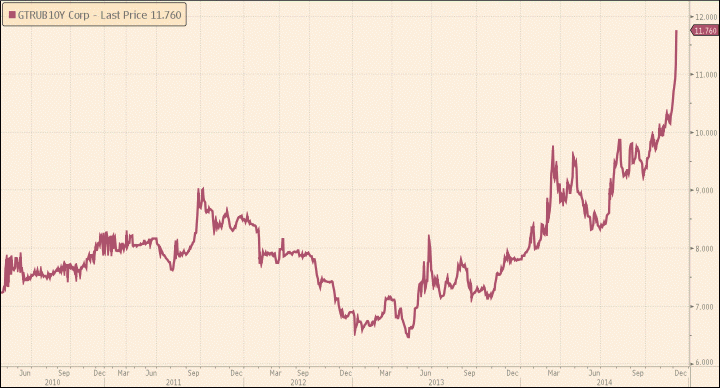 Source: FT.
From FastFT:
The Russian central bank's intervention has bolstered the rouble today, but the country's government bonds are tumbling.

The 10-year Russian local government bond yield has rocketed 60 basis points to 11.76 per cent, the highest since 2009, as investors dump their holdings en masse.

The dollar denominated 10-year bond yield rose 7 bp to over 6 per cent.

The rouble is the worst performing major currency in the world today, and has only been hauled off its record low by a series of central bank interventions in recent days. The latest data indicate that it spent $1.9bn on December 3 to buttress the currency.

Investors are still dumping their Russian bond holdings, however, as fears grow over the financial and economic impact of the sliding oil price and of western sanctions over Moscow's support for Ukrainian separatists.