Republicans are keen to sacrifice CBO's role as impartial arbiter of fiscal measures on the altar of "dynamic scoring" of tax measures.[0] But there is no economic reason for restricting this approach to only tax measures.
First, on tax measures, from Jane Gravelle in a Congressional Research Service review of the policy literature:
Economists were attracted to intertemporal models because they were dissatisfied with the ad hoc treatment of savings in Solow models. However, intertemporal models are far less transparent, and modelers appear in some cases to make little attempt to connect the elasticities associated
with labor supply to the ones found in empirical evidence. The JCT [Joint Committee on Taxation] model used in the past has come close but, as illustrated, it is possible to come even closer to matching the empirical evidence, while at the same time minimizing "shooting in the dark" with a labor supply response to the interest rate. JCT also incorporates life-cycle elements in their MEG [Macroeconomic Growth Model] model that do not involve labor supply responses to rates of return. Nevertheless, the assumption of equal substitution elasticities between consumption across far apart periods means that these models still rest on unproven, and probably unreasonable assumptions about the elasticity of substitution between consumption amounts that are ten or twenty years apart. There is a question of whether intertemporal models do more harm than good, at least with respect to the feedback effects during the budget horizon, especially when parameter choices may induce a large labor supply response to the rate of return.

Intertemporal modelers presenting the background on their models sometimes report the first two values in Table 4 but no measure of the leisure share of time, which makes it impossible to evaluate on the basis of their published work. Sometimes even the minimal information on elasticities is not provided. (JCT and CBO report all their relevant assumptions.) Without the parameters to understand the models (and particularly without information on the time endowment), these models become impossible to evaluate or compare.
In other words there is a tremendous amount of uncertainty — model and parameter — associated with the intertemporal models necessarily used dynamic scoring of tax policies. See also this discussion of the Bush Administration's foray, in this post. (Of course, I am skipping nonsensical analyses such as the Heritage Foundation's Center for Data Analysis of, for instance, the Ryan plan [1] [2] [3]).
Second, as pointed out by Alan Auerbach, there is no reason to only analyze tax policies. For instance, spending on Head Start which might enhance labor productivity should in principle be scored dynamically. And, so too should infrastructure. Consider this assessment from the IMF's Research Department, regarding public investment.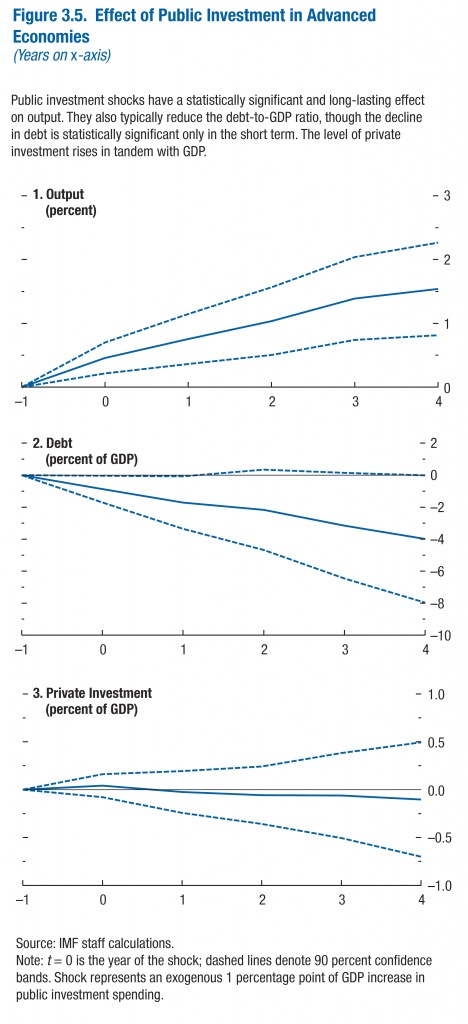 Source: IMF, World Economic Outlook, (October 2014), Chapter 4.
Notice that debt declines 4 percentage points of GDP in response to an exogenous 1 percentage point of GDP increase in public investment. In addition output increases 1.5 percentage points relative to baseline. Now, one could argue — particularly with respect to debt-to-GDP — the response is only statistically significantly different from zero in the short term. However, one has even less empirical evidence regarding statistical significance for tax revenue responses to tax rate changes in many instances.
So, let's think twice about dynamic scoring…
Update, 12/15, 8pm Pacific: From Orszag (2002):
To be sure, many advocates of "dynamic" scoring favor its use in the context of tax cuts, not expansions of public capital investment. Such a distinction between revenue and expenditure proposals, however, makes little sense. The arguments in each case are quite similar; just as advocates of tax cuts often cite controversial evidence regarding their macroeconomic benefits, advocates of public capital, education, and health spending cite
controversial academic research showing large macroeconomic benefits from the expansion of such programs. Furthermore, dynamically scoring tax proposals but not expenditure programs would create an even larger incentive to transform spending programs into tax incentives, even if that involves unnecessary administrative and economic costs. Thus, if macroeconomic effects were to be included in the scoring of revenue proposals, they should also be included in the scoring of public capital investments, education programs, and health spending.