The JEC Chair Brady (R) writes: "While the unemployment rate has fallen it doesn't tell the true story about stagnant paychecks and Americans struggling to find full-time work." He then calls for passage of Keystone-XL as part of the remedy.
Figure 1 depicts the evolution various indices of employment growth — nonfarm payroll, private payroll, private hours, and nonfarm payroll estimate derived from household survey.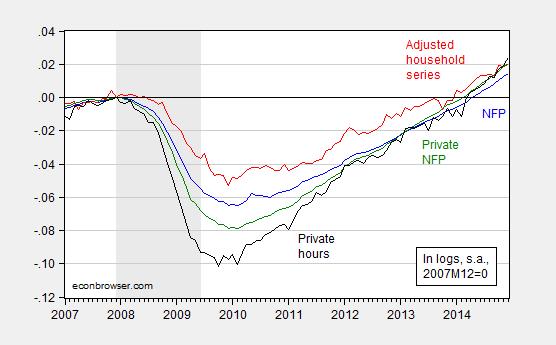 Figure 1: Log nonfarm payroll employment (blue), household series adjusted to NFP concept (red), private nonfarm payroll employment (green) and private hours (black), all normalized to 2007M12=0. Source: BLS, and author's calculations.
Figure 2 shows that each month's estimate has been revised upward since June.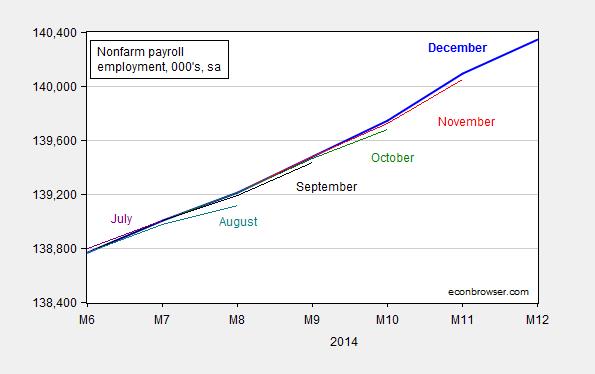 Figure 2: Nonfarm payroll employment for December (blue bold), November (red), October (green), September (black), August (teal), July (purple). Source: BLS.
A major them of the articles covering the release have focused on wages, highlighting the negative growth in the last month. It's useful to remember that real wages matter as well. Here the trend is more ambiguous.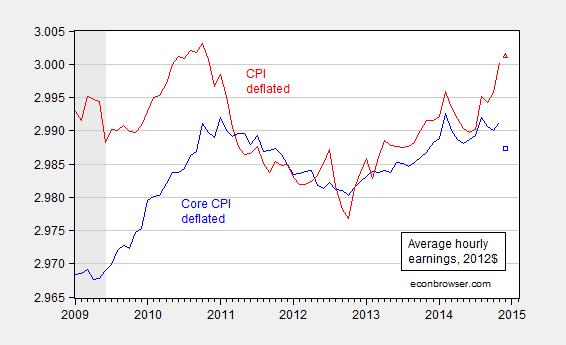 Figure 3: Log real hourly earnings in 2012$ for production and nonsupervisory workers, deflated by Core CPI (blue), and by CPI (red). Observations for December calculated using Bloomberg consensus for CPI and Core CPI as of 1/11/2015. Source: BLS series AHETPI for earnings, BLS, Bloomberg, and author's calculations.
These data suggest little inflationary pressures arising from rising wages.