Assuming there are no other "drafting errors" in the Governor's proposed budget for higher education, then the plan, if implemented, for a $300 million reduction in funding for the UW system, combined with a two year tuition freeze, has the following implications for the Madison campus of the University of Wisconsin.
From Chancellor Becky Blank's February 5th presentation, after discussing how earlier cuts have been filled up to now by spending down reserves, she notes (slides 47, 48):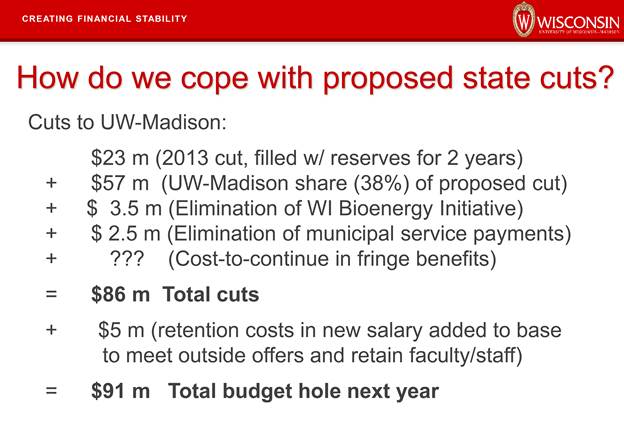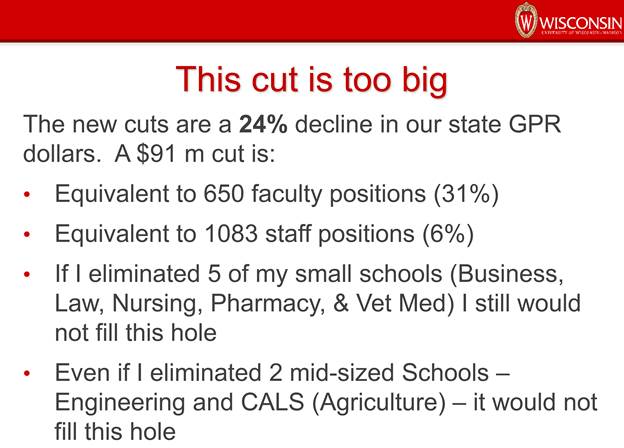 Some people might think it's a fine idea to eliminate the Law School (unlike Dick the Butcher, not me, by the way). But I doubt that many of my fellow Wisconsinites think it would be a good idea to delete the Vet School, given the importance of agriculture in the state. CALS stands for College of Agriculture and Life Sciences; production of Vitamin D — a cure for rickets –, development of the means for mass production of penicillin, and the cure for pellagra, a once fatal disease, are all associated with units now encompassed by CALS. [1]
Slide 25 provides a comparison of salaries paid by UW Madison against other (state university) peer institutions; those institutions pay their full professors 43% higher on average than the University of Wisconsin at Madison.
The entire presentation is here.