From the Wisconsin Economic Development Corporation (WEDC) website:
We've [WEDC] put a greater focus on supporting high-growth entrepreneurs in Wisconsin. The Seed Accelerator program is supporting veterans, inner city Milwaukee and water technology businesses; and helping entrepreneurs get their ideas off the ground. …
The Kauffman Foundation's most recent assessment indicates that progress on the entrepreneurship front is not in line with expectations: in 2015 it ranks Wisconsin at 50 (out of 50 states), falling five slots since the 2014 rankings. Here is a graphical depiction: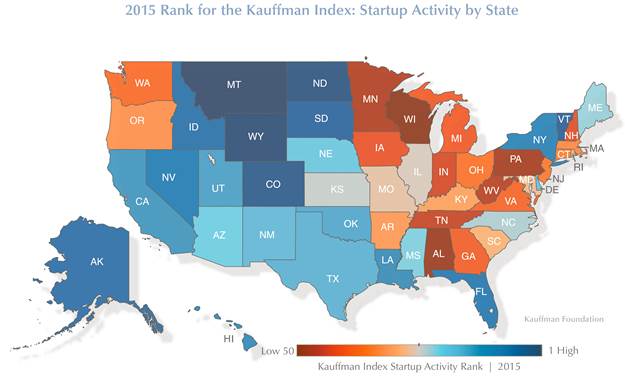 Source: Kauffman Foundation, State and Metro Trends.
I don't take the decline in the rankings from 45th to 50th too seriously — in general rankings are not the ideal way to characterize relative performance. However, the fact that Wisconsin remains two consecutive years in the bottom quintile is suggestive that — at least according the Kauffman metrics — Wisconsin has not enjoyed a renaissance in entrepreneurship in recent years.
Here is a time series of one of the components, the rate of new entrepreneurs: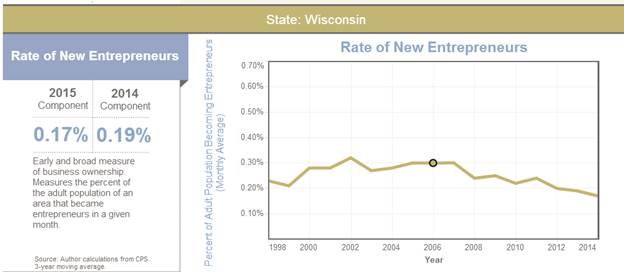 Source: Kauffman Foundation.
Notice that this series has been declining since 2011. The opportunity share is lower than 2011, while opportunity density (2012) is essentially flat.
In some ways, this outcome is unsurprising. The agency tasked to improve the entrepreneurial environment — WEDC — is Governor Walker's flagship innovation to privatize the former Commerce Department. It has received criticism in recent months after writing off a $500,000 loan to a company that was a substantial contributor to Governor Walker's political campaigns [1], in addition to a long string of bureaucratic problems, as outlined in the Legislative Audit Bureau [2] (Interestingly, two Republican assemblymen have just proposed eliminating the Legislative Audit Bureau [3]).
As an aside, the ALEC-Laffer document Rich States, Poor States 2015 ranks Wisconsin at 13th, rising from its 2011 ranking at 30th (2011 rank pertains to 2010 data). Hence, Wisconsin's rate of new entrepreneurs seems to be inversely correlated with how highly ranked Wisconsin is, according to RSPS.