Let hope our responses to the next ones are better than "Heckuva job, Brownie".
From Grinsted, Moore, and Jevrejeva, "Projected Atlantic hurricane surge threat from rising temperatures," Proceedings of the National Academy of Sciences of the United States of America, 2013:
Abstract: Detection and attribution of past changes in cyclone activity are hampered by biased cyclone records due to changes in observational capabilities. Here, we relate a homogeneous record of Atlantic tropical cyclone activity based on storm surge statistics from tide gauges to changes in global temperature patterns. We examine 10 competing hypotheses using nonstationary generalized extreme value analysis with different predictors (North Atlantic Oscillation, Southern Oscillation, Pacific Decadal Oscillation, Sahel rainfall, Quasi-Biennial Oscillation, radiative forcing, Main Development Region temperatures and its anomaly, global temperatures, and gridded temperatures). We find that gridded temperatures, Main Development Region, and global average temperature explain the observations best. The most extreme events are especially sensitive to temperature changes, and we estimate a doubling of Katrina magnitude events associated with the warming over the 20th century. The increased risk depends on the spatial distribution of the temperature rise with highest sensitivity from tropical Atlantic, Central America, and the Indian Ocean. Statistically downscaling 21st century warming patterns from six climate models results in a twofold to sevenfold increase in the frequency of Katrina magnitude events for a 1 °C rise in global temperature (using BNU-ESM, BCC-CSM-1.1, CanESM2, HadGEM2-ES, INM-CM4, and NorESM1-M).
Regarding the model simulations:
We have calibrated models from each individual grid cell and combined all of these into a single model. This downscaled model incorporates all of the competing teleconnection effects discussed above. We map the projected warming patterns through this statistical model to project future changes. We emphasize that this is not a blind statistical extrapolation exercise, as we have verified that the teleconnection patterns are consistent with well-known physical relationships. To demonstrate the cyclone number evolution over the 21st century (Fig. 3), we project changes in the frequency of Katrinas using gridded and global mean temperatures from an ESM with a ∼2.4 °C warming over the 21st century (RCP4.5) (38). We examine the intraclimate model variability using output from six models (BNU-ESM, BCC-CSM-1.1, CanESM2, HadGEM2-ES, INM-CM4, and NorESM1-M). The response to a 1-°C warming is consistently an increase by a factor of 2–7, despite the spread in climate sensitivity between ESMs. The model forced by global average temperature yield projections near identical to the full spatial model (Fig. 3 and SI Katrina Sensitivity to Global Warming). The MDR model is less sensitive to warming (Table 2, Fig. 3, and Fig. S1), but results in projections that are consistent with the results from both the full spatial model, and the global model. In SI Sensitivity Tests, we perform a range of sensitivity tests by changing statistical methods, data treatment, and impact of data gaps. All tests indicate confidence in the factor 2–7 increase in the number of Katrina magnitude surges for each degree of global warming. This increase does not include the additional increasing surge threat from sea level rise (21).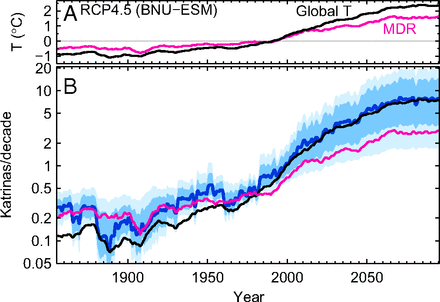 Fig. 3.
Number of Katrina magnitude surge events per decade (B) hindcast and projected changes in temperatures from BNU-ESM under for RCP4.5 (A). The thick blue line shows the projection using the full spatial gridded temperatures and confidence interval (5–16–84–95%); magenta and black show the projections using only MDR and global average surface temperature. Confidence intervals for MDR and global T (not shown for clarity) are about the same size as for the gridded model.
Of course, sea levels are rising, and apparently faster than earlier projected. From CNN today:
It was less than two years ago that the Intergovernmental Panel on Climate Change released its all-encompassing assessment on the current state of climate change research and made projections for the future climate of our planet.

According to the latest from NASA, however, the projections the panel made for a rise in global sea levels of 1 to 3 feet may already be outdated.

According to Steven Nerem of the University of Colorado, we are "locked into at least 3 feet of sea level rise, and probably more."

Nerem said experts now think a rise in sea levels toward "the higher end of that range is more likely, and the question remains how that range might have to shift upwards."