The Department of Workforce Development released preliminary statistics for August today. Civilian employment remains below the 2008M03 peak; so is the labor force.
Figure 1: Wisconsin nonfarm payroll employment (blue), civilian employment (red), in 000's, seasonally adjusted, Log scale. Dashed line denotes last period establishment series is QCEW benchmarked. Source: BLS, DWD.
Wisconsin nonfarm payroll employment has exceeded the prior peak by 9,000; but the broader measure of civilian employment in August is noticeably lower than the peak six months prior. Those who are familiar with the state-level establishment data know that current figures incorporate Quarterly Census of Employment and Wage (QCEW) data up to September 2014. My June estimates of what would happen if we used more recently released QCEW data through December 2014 implies the reported series should be moved down by 12,000, implying that when the benchmarking is implemented next year, it will turn out that August's employment will not end up being above the prior peak.
The unemployment rate declined from 4.6% to 4.5%, and has been decreasing since the beginning of the year (5% in January). However some part of this is due to a sharply decreasing labor force.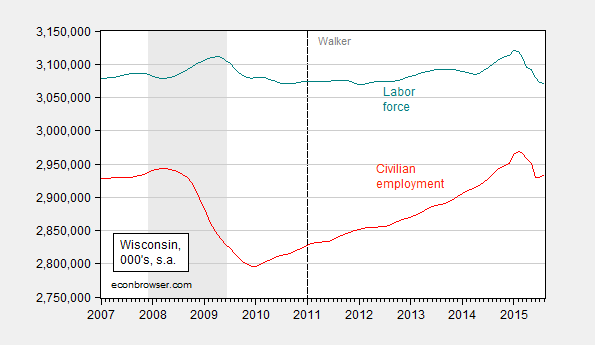 Figure 2: Wisconsin labor force (teal), civilian employment (red), in 000's, seasonally adjusted. Log scale. Source: BLS, DWD.
One caveat: the household survey estimates are subject to considerable sampling error, more so than the establishment survey (see here). Hence, trends should be the focus of attention — and what's true is that Wisconsin's estimated labor force has shrunk 1.6% since January (log terms). If the Governor's objective is to encourage individuals to work, then there is a lack of progress on this front.
Finally, note that Wisconsin's unemployment rate is rising relative to the National rate, following the trend that has been in place since Governor Walker took office.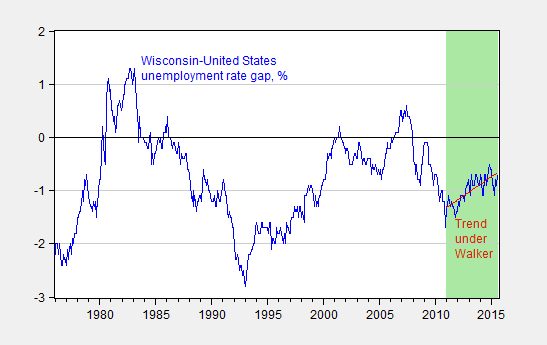 Figure 3: Wisconsin minus US unemployment rate, in percentage points (blue), and linear trend in this differential over the Walker terms (red). Green shaded area Walker terms. Source: BLS, and author's calculations.
None of these points are noted in the DWD release. However, the last bullet point in the memo does state:
Chief Executive Magazine ranked Wisconsin the "12th Best State for Business" in its annual survey of CEO's, an increase of 2 spots over the 2014 ranking, and a big increase over 2010, when the state ranked 41st.
Update, 9/22: Anonymous aka Future President Donald Trump aka Scott Walker, American Patriot and Freedom Fighter aka BUT THE MODELS SHOW US!! aka (xo poa) aka YOLO! aka JS aka Joe asks for a comparison of labor force developments in US against Wisconsin. Here it is. Looks pretty bad to me.
Figure 4: Log US labor force (blue) and Wisconsin (red), 2011M01=0. NBER defined recession dates shaded gray. Source: BLS, NBER and author's calculations.