From the NYT:
Donald J. Trump said he would favor a 45 percent tariff on Chinese exports to the United States, proposing the idea during a wide-ranging meeting with members of the editorial board of The New York Times.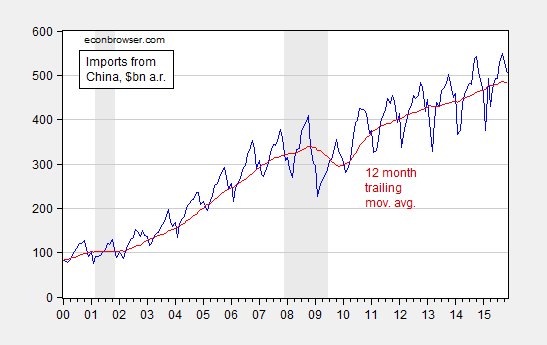 Figure 1: Chinese imports into the US (cif), billions of USD, annual rates (blue), and 12 month moving average (red). Source: Census via FRED.
A partial equilibrium analysis of the short run impact depends critically on the price elasticity. The Cheung, Chinn and Qian (2015) estimates range from -1.6 to -2.2, for exchange rate changes, for Chinese ordinary exports to the United States. Price elasticities for tariff changes need not be the same, and in fact are likely to differ given the greater persistence in tariff rates. However, for the sake of illustration, let's suppose the price elasticity is 2.0, and Chinese exports are perfectly elastically supplied in yuan terms. Then a 37% tariff increase (in log terms) implies a 74% decrease in imports from China (in log terms). As of November, the 12 month value of Chinese goods imports was $500 billion (measured as imports into the US from China by Census), so this means Chinese exports to the US falls to about $239 billion.
Of course, if Chinese costs in yuan fall (due to pricing to market), then the reduction in imports is less marked. Suppose for instance, 50% is absorbed by Chinese exporters (hard to believe given paper thin margins), then the decrease in imports to the US would only be 37%…
The foregoing assumes no retaliation, and no repercussion effects on the Chinese economy that would change the constellation of exchange rates, price levels, and GDP throught the world.
So far, 2016 is shaping up to have as nonsensical policy proposals (at least from one side) as in 2015.