BLS just released state level data. Wisconsin employment nonfarm payroll employment is up, but remains below what is expected given the historical relationship between US and Wisconsin employment — by 63.2 thousand…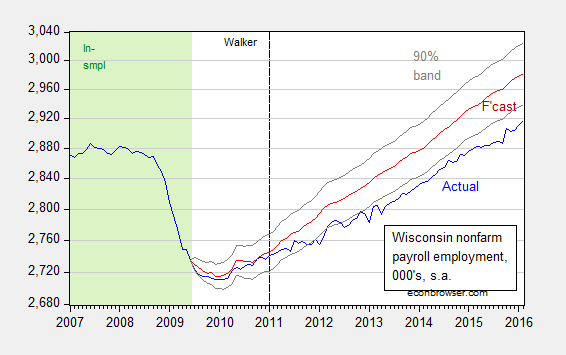 Figure 1: Wisconsin nonfarm payroll employment (blue), forecast from error correction model estimated over 1990M03-2009M06 (red), and 90% confidence band (gray lines), all on log scale. Dashed line at 2011M01 when Walker takes office, and light green denotes sample period. Source: BLS, author's estimates (as described here).
Some have argued that Wisconsin's lackluster performance is due to the strength of the dollar. This may be true, but it is not validated by the regression analysis. The dollar's real value (as measured by the Fed) does not exhibit statistical significance in the error correction model. Moreover, the gap between the counterfactual and actual is not cointegrated with the (log) real dollar.