The sheer audacity (and vagueness) of Senator Sanders' economic program means that there is a lot of uncertainty surrounding impacts: wholesale replacement of ACA, rapid increases in marginal tax rates, rapidly escalating infrastructure spending, among others. Here's CRFB's estimate of the impact on debt-to-GDP.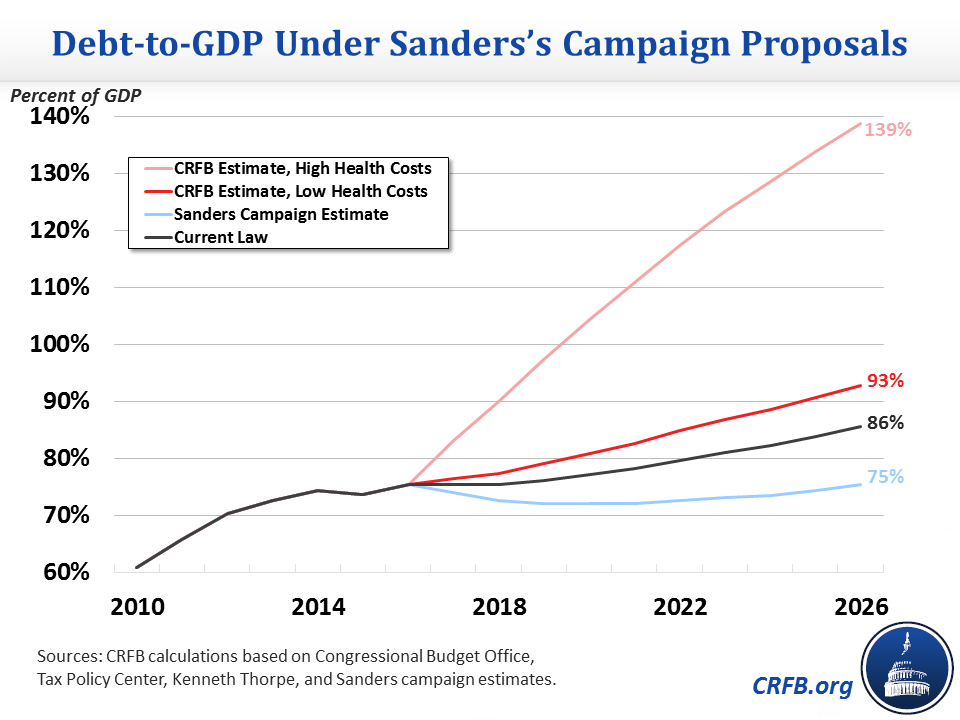 Frankly speaking, it's pretty brave of of CRFB to try to score the Sanders plan, given the many imponderables.
Based on our estimates, Senator Sanders's proposals would raise both spending and revenue to far beyond any previous levels in the United States over the last half century. Assuming lower health costs, spending (including net interest) will average 30 percent of Gross Domestic Product (GDP) over the decade, and assuming higher health costs, spending will average 35 percent. By comparison, the United States has spent an average of about 20 percent of GDP over the last half century and never more than 24.4 percent.

Senator Sanders would also increase revenue substantially, to about 25 percent of GDP over the decade, which is significantly higher than the historical average of 17.4 percent and well above the previous record of 20 percent of GDP set in the year 2000.

In dollar terms, we find that Senator Sanders's major initiatives would cost over $17 trillion and up to $28 trillion (depending on health assumptions), while his tax increases – based largely on estimates from [Tax Policy Center] – would raise less than $16 trillion. Incorporating interest, the result would be $2 trillion to $15 trillion of additional debt, causing debt to rise from about 74 percent of GDP in 2015 (and 86 percent by 2026 under current law) to between 93 and 139 percent of GDP by 2026.
No dynamic scoring here — and it's not clear which way the sum effect would go: Very high marginal tax rates vs. universal health care and other potentially labor supply enhancing policies.
Update, 4/15 3:30PM Pacific: An alternative way of assessing budgetary implications is to look at the Tax Policy Center assessment on revenues, and Gerald Friedman's assessment of expenditures. They are, respectively, $15.3 trillion and $17.7 trillion respectively. That's a $2.4 trillion gap, of 8.6% of potential GDP under baseline in 2026.