One of the craziest posts I have read in recent years alleges that the US government has deliberately set out to destabilize the world economy in order to … lower Federal financing costs!
The Alleged Conspiracy
From MyCostGov blog comes the post with the following alarming title: "World Banks Panic Selling U.S. Treasuries".
The U.S. government gets one major benefit from having the world in financial turmoil—the same panic that prompted foreign central banks to sell their U.S. Treasury holdings to prop up their currencies also prompted large numbers of U.S.-based individuals and institutions to buy more U.S. Treasuries, which pushed down their yields, which means that the U.S. government can borrow more money at lower interest rates to sustain its spending…
So far, so good (although I'm not sure it's a "panic" that induces foreign central banks to conduct forex intervention, see this post). Mr. Eyermann then continues:
All of which would go a long way toward explaining the Obama administration's active pursuit of a multitude of half measures in response to various developing global crises.
I find this description completely befuddling because for the preceding ten years, we had been pointing to foreign official sector acquisition of US Treasurys as propping up Treasury prices, and hence depressing Treasury yields. Remember "the conundrum"? Now, the US government finds it in its interest to foster panic to induce foreign central banks to deplete their Treasury holdings?
Anyway, let's look at the data, and (gasp!) some research.
Forex Reserves and Official Sector Holdings of Treasurys
It's true that official sector (i.e., central bank) foreign exchange holdings have declined in recent years. Figure 1 shows all foreign exchange holdings reported to the IMF.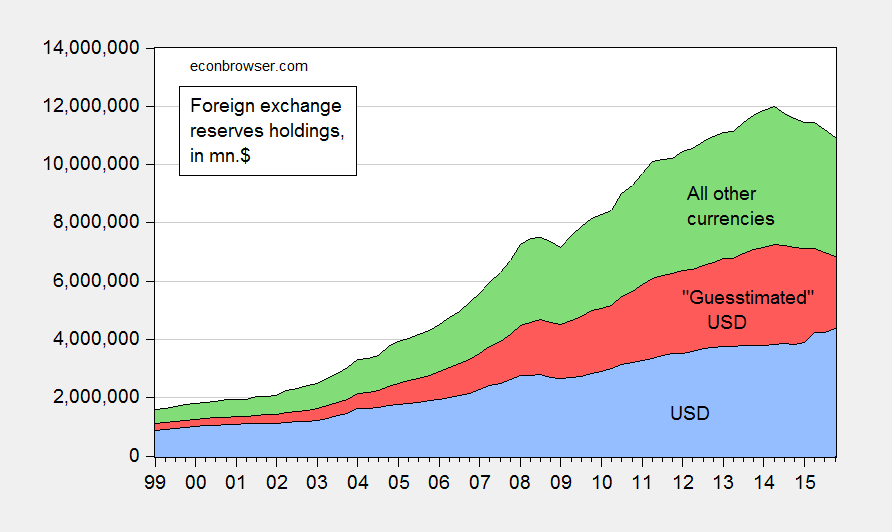 Figure 1: Holdings of foreign exchange reserves ex.-gold in USD (blue), guesstimated USD (red), and all other currencies (green), all in millions of $. Source: IMF, COFER, and author's calculations.
As can be clearly seen known US dollar holdings have actually risen at the end of 2015. Now, much of the currency composition of foreign exchange holdings is not known, so it's not completely clear what's happened to total dollar holdings. I use the rule-of-thumb that assumes 60% of unallocated reserves are in USD. That yields the red shaded area. The decline in USD reserve holdings is then apparent, but much more modest than one might think just looking at total global reserves.
Now for the last link in the chain — it's also typical to assume that when official reserve holdings of dollar assets declines, that's equivalent to a decline holdings of US Treasurys. In point of fact, since guesstimated dollar holdings started declining from 2014Q1, measured holdings of Treasurys (via TIC; with the usual caveats regarding the accuracy of the monthly data [1]) indicate little change from beginning to end 2015.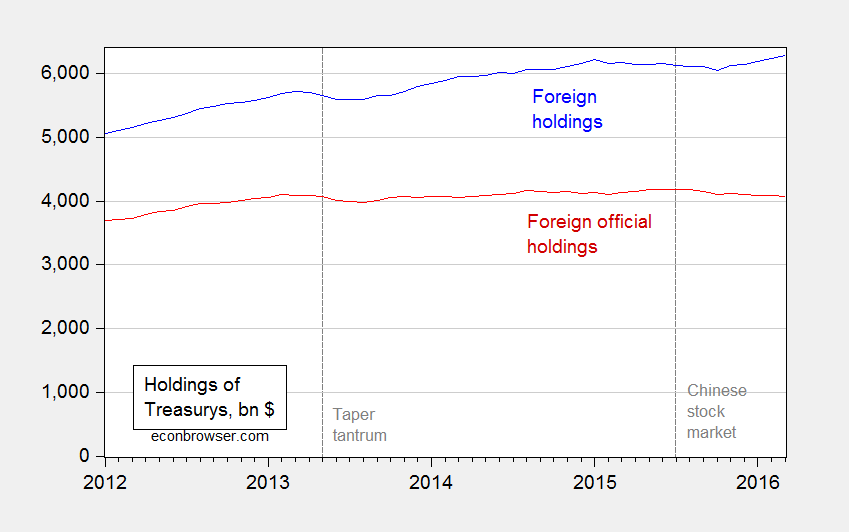 Figure 2: Foreign and international holdings of US Treasurys (blue), and foreign official sector holdings of US Treasurys (red). Source: TIC.
In fact, over the period highlighted by Mr. Eyermann (January onward), holdings of Treasurys fell only $23 billion from December 2015 to March 2016, i.e., 0.6 percent.
Now, on the other side of the ledger, whatever benefit is gained by lower interest rates due to global financial turmoil (of which I'm not particularly convinced), is the stronger value of the USD, and lower rest-of-world growth. These two phenomena result in a hit to net exports, and hence a drag on GDP: not exactly things desirable from the standpoint of the USG.
Global Financial Stress or Liquidity Stress?
Let's return to Mr. Eyermann's original premise. Is whatever decrease in Treasury holdings due to higher global stress? This is a hard question to answer, given that "global financial turmoil" is in the eye of the beholder. [2] The Bank of America/Merrill-Lynch index (the Global Financial Stress Index, discussed here) has risen fitfully since mid-2014, long before the official sector decumulation of Treasurys (which can be dated to August 2015).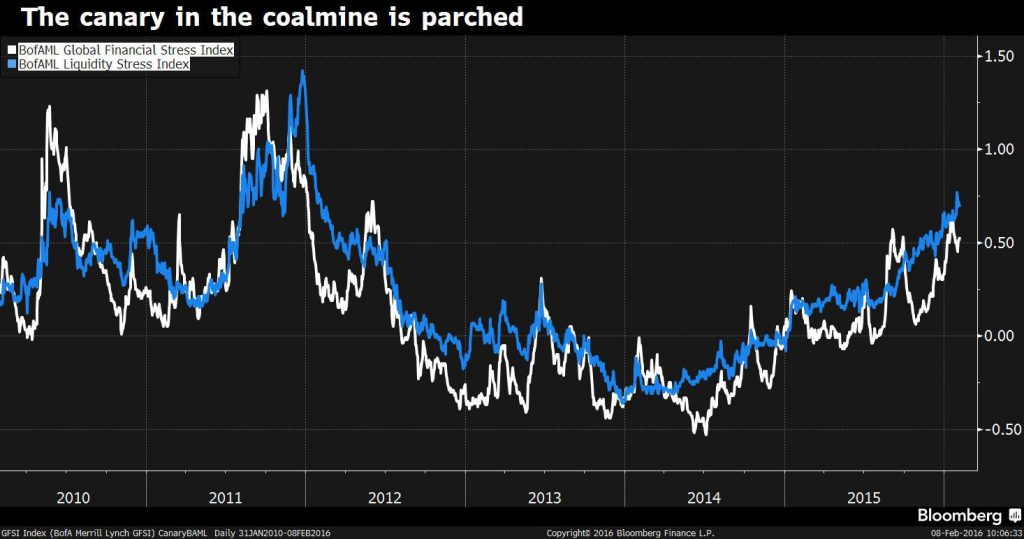 Source: Kawa, "Bank of America: This Chart Shows 'Deteriorating Liquidity' Is at the Heart of Market Carnage," Bloomberg (February 8, 2016).
In the accompanying Bloomerger article, the author stresses the primary role of liquidity stress, as opposed to financial stress:
"Compared to the broader GFSI, liquidity stress has somewhat methodically and steadily risen over the past two years: while the GFSI has moved higher in fits and starts, liquidity stress has more persistently risen, only pausing its rise at times, before moving higher," the strategists explained. "This persistence suggests to us that deteriorating liquidity is at the heart of and may be the primary driver of broader rising financial stress."
Deteriorating liquidity conditions are attributed to higher capital regulatory requirements, lower commodity prices, and Fed tightening.
To sum up: It seems highly unlikely to me that the Administration is deliberately engineering global financial turmoil in order to lower Federal borrowing costs, as Mr. Eyermann concludes. Rather, this argument is what one gets when fevered ideological imagination collides with ignorance of the international finance literature.
A Side Note on China
Roughly two thirds of the Treasury decumulation since June 2014 is accounted for China, according to monthly TIC data. I think most observers would agree that whatever anxieties might be driving Chinese capital outflows, they are not "made in America" (and the always excellent and newly-returned Brad Setser argues that the anxieties are mostly regarding future depreciation).