The Wisconsin Department of Workforce Development trumpeted May figures today. What if the relationship between US and Wisconsin employment over the 1994-2009M06 period persisted into the Walker era? We would have expected 60,000 more jobs than we got.
I use an error correction model estimated over the 1994M01-2009M06 period to conduct a dynamic out-of-sample forecast using actually realized values of the US employment (technically, an ex post historical simulation), and assuming US employment is weakly exogenous (one lag of first differences included); see this post for a discussion of the details. The results are shown in Figure 1.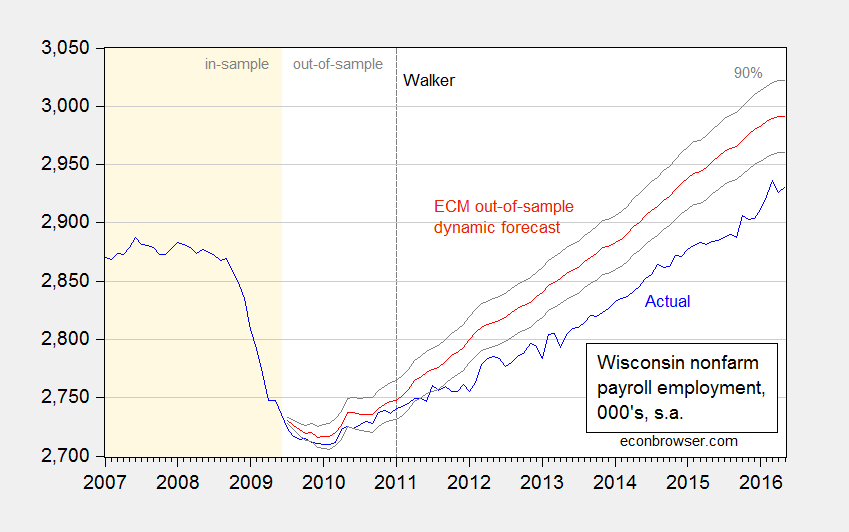 Figure 1: Wisconsin nonfarm payroll employment (blue), and forecasted (red), and 90% prediction interval (gray lines). Light tan shaded area denotes in-sample data. Log scale on vertical axis. Source: BLS, WI DWD, and author's calculations.
Results are remarkably insensitive to including more lags, taking the sample period back to 1990, or extending the in-sample period up to 2010M12.
The shortfall is about 60,000; taking into account parameter uncertainty, it could be as large as 91,000, and as small as 29,000.
It is interesting to consider how well Wisconsin employment is doing relative to the August 2013 re-commitment by Governor Walker to create 250,000 new jobs by the end of his first term. He has clearly missed that target, but he might make the target before the end of his second term — the point estimate derived from an ARIMA(1,1,1) on log private NFP over 2011M01-2016M05 indicates November 2017 as hitting the threshold.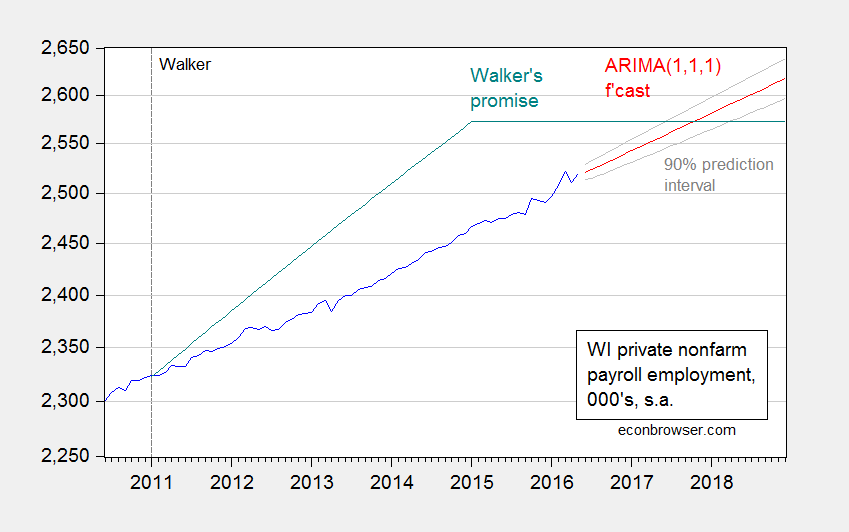 Figure 2: Wisconsin private nonfarm payroll employment (blue), and forecasted from ARIMA(1,1,1) (red), and 90% prediction interval (gray lines). Log scale on vertical axis.Source: BLS, WI DWD, and author's calculations.
As of May 2016, Wisconsin is still 52,000 short of the target promised for January 2015. None of this is mentioned in today's release.
How does these observations compare against the Administration's forecasts. We have no idea, and we will have no idea for the foreseeable future. In response to my query to the WI Department of Revenue about the quarterly Wisconsin Economic Outlook, last released in May 2015, I received this very polite response:
[T]he report was becoming more irregular, and we have discontinued issuing the Outlook based upon the resources that were involved in producing it. We may still issue special reports from time to time, so please feel free to check our website in the future.
Consequently, those of us who are not privy to the inner workings of the Walker Administration do not know what the Administration is forecasting for GDP, employment, personal income, and so forth.