The Bureau of Economic Analysis announced today that U.S. real GDP grew at a 1.2% annual rate in the second quarter. Not good news.

The U.S. growth rate has historically averaged over 3%. Many of us have concluded that a long-term growth rate around 2% may be more realistic to expect at this point. But the last three quarters have fallen significantly below even that new lower bar.
I had been among those who attributed the anemic first-quarter numbers in part to seasonal adjustment problems. This argued for some spring-back effect expected for the second quarter, to which reality has now answered with a cold shower. The Federal Reserve Bank of New York nowcast had been anticipating 2.2% growth for Q2. The Atlanta Fed nowcast was 1.8%, and the Wall Street Journal economists' survey called for 2.6%.
Our Econbrowser Recession Indicator Index is starting to register more concern, with today's data bringing it up to 22.5%. The index uses today's release to form a picture of where the economy stood as of the end of 2016:Q1. However, that's still significantly below the 67% threshold at which our algorithm would declare that the U.S. had entered a new recession.
They key factor in today's weak numbers was a drawdown of inventories. Real final sales grew at a 2.4% annual rate with half that growth being met by selling out of inventory rather than new production. Jason Furman, Chair of the White House Council of Economic Advisers, emphasizes that inventory changes are the most volatile and least persistent component of GDP growth, and sees a steadier and more reassuring picture if you focus just on real final domestic purchases.
Still, nonresidential and residential fixed investment also were both lower than they had been in the first quarter. The latter is where I still think the prospects for a better second half may be found.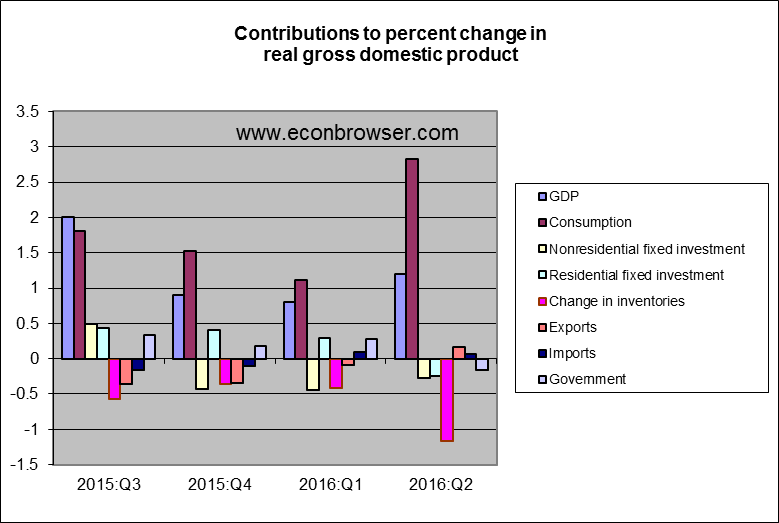 But by "better", I don't mean 3% growth.