From Furman, Russ and Shambaugh:
[t]ariffs are imposed in a regressive manner – in part because expenditures on traded goods are a higher share of income and non-housing consumption among lower income households, but also due to explicit regressivity within categories.
Figure 3 depicts the relative burden of tariffs, by income decile: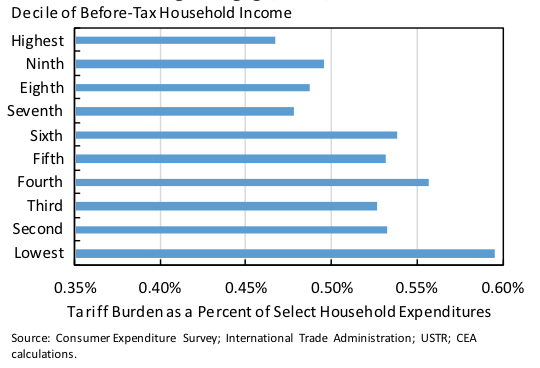 That's for the current system of tariffs. What would imposing higher tariffs on Chinese imports do? The analysis does not provide the answer to that question. My guess is that, given the preponderance of inexpensive consumer goods sourced from China, the regressiveness would increase. Trade expert Caroline Freund notes:
Even if the welfare of the rest of the globe is excepted, such a tax on goods imported from China would "tremendously" hurt the poor by jacking up the prices on many of the products they most frequently use, said Caroline Freund, a senior fellow at the Peterson Institute for International Economics.
Things to consider, as we hurtle toward day one.