That's the title of a new EconoFact memo written by me:
Nearly 70 percent of rural votes cast in the 2016 election went to Donald Trump. This phenomenon has been attributed in part to the declining fortunes of farmers. But rather than helping reverse this trend, several of the Trump administration's policy proposals would negatively affect the fortunes of the agricultural sector by depressing the prices received by farmers, reducing the demand for American agricultural exports, and raising production costs. Moreover, that portion of the agriculture budget aimed at supporting farm prices and incomes is likely to be squeezed to accommodate the increase in defense spending.
Why do I arrive at this conclusion? The EconoFact memo lays out the points in detail, but first and foremost is a macro point — aggressive (albeit regressive) fiscal policy at near full employment will push up interest rates, push up the dollar's value, and hence push down dollar prices of ag commodities.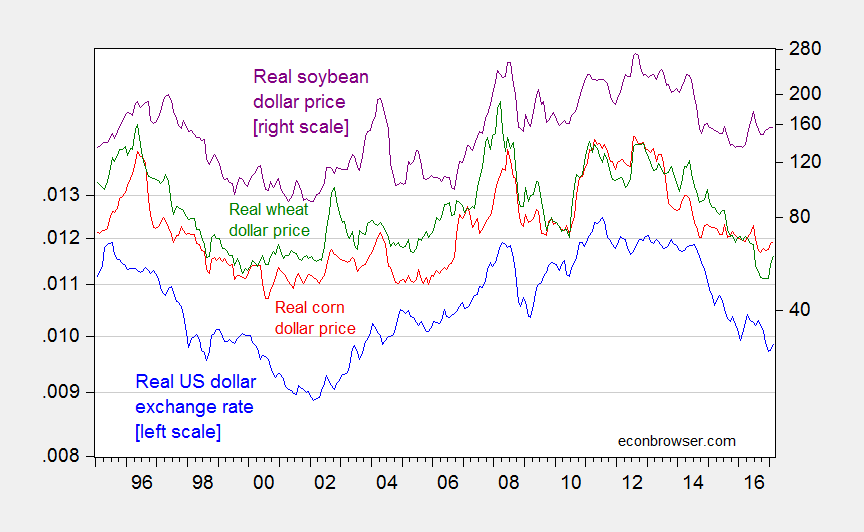 Figure 1: Real trade weighted US dollar exchange rate (blue, left scale, down is appreciation), and dollar global price of wheat (green), corn (red), and soybeans (purple ), all deflated by CPI. Source: Federal Reserve Board, IMF, BLS, and author's calculations.
The likely pressure on ag commodity prices is likely to take place against a backdrop of already declining real net farm income.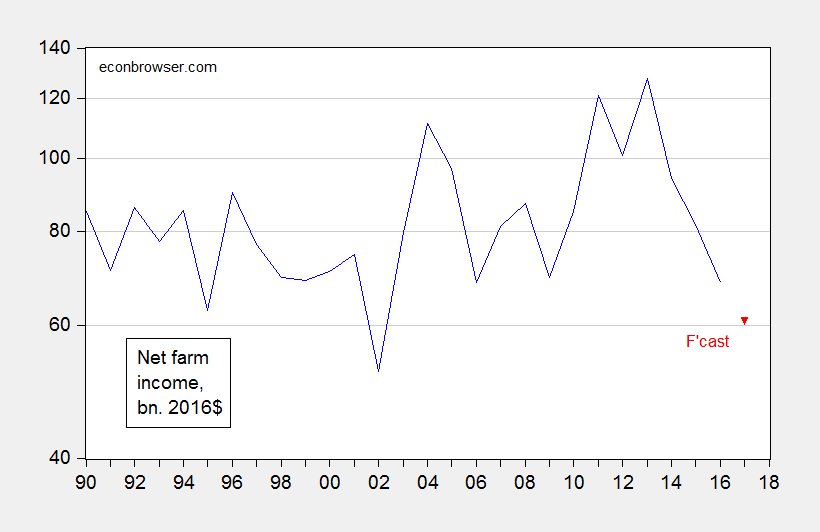 Figure 2: Net farm income, in billions of 2016$, deflated by CPI. 2017 estimate from USDA, deflated by CBO estimate of CPI. Source: USDA , BLS, CBO, Budget and Economic Outlook, January 2017, and author's calculations.
Given the Administration's budget outline, I can only guess that there will be a lot of cutting in the discretionary aspects of the agriculture budget. Over the longer term, price supports and conservation efforts could be reduced if the President is intent on boosting defense, cutting taxes, and holding the line on budget deficits.
The Administration's New Trade Strategy (discussed here) also casts a pall over the ag economy's prospects. From Nafta to possible WTO sanctioned retaliation over the border adjustment tax and other trade initiatives, there's plenty for those in the ag economy to worry about.
More stuff to worry about, laid out in the EconoFact memo.