State level data for GDP in 2017Q3 were released yesterday. This is an opportunity to evaluate the progress of manufacturing value added (as opposed to employment) in Wisconsin after passage of the Manufacturing and Agriculture Credit (MAC).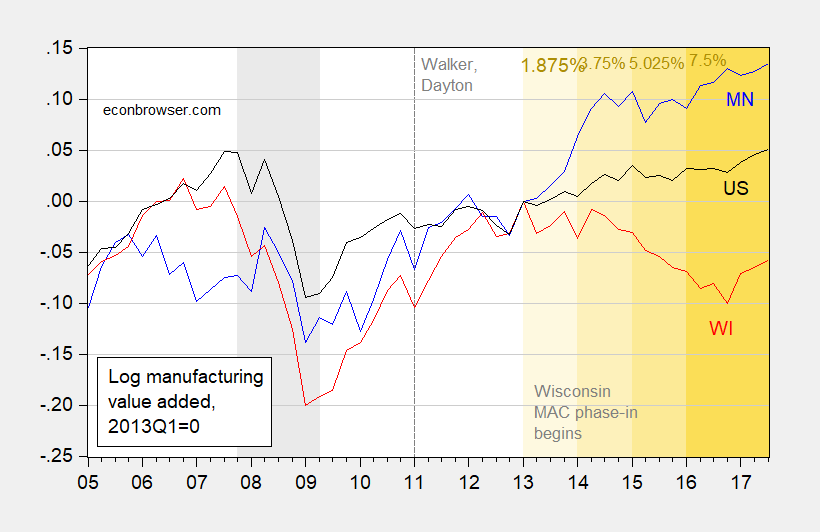 Figure 1: Log real manufacturing output in Minnesota (blue) and in Wisconsin (red), normalized to 2013Q1=0. NBER defined recession dates shaded gray. Orange shading indicates phase in of Wisconsin Manufacturing and Agriculture Credit (MAC), with darkness of color indicating size of credit, in indicated percentages. Source: BEA, accessed 1/25/2018, NBER, and author's calculations; graph updated 1/25.
Obviously, different things are happening in 2013Q1 when MAC was implemented; however, the fact that Minnesota manufacturing surges while US manufacturing continues to grow as Wisconsin dives is suggestive. As of 2017Q3, Wisconsin manufacturing value added is 5.8% below 2013Q1 levels, 2.4% below 2012Q4, just before implementation of the MAC.
Neither employment (according to establishment data) nor value added have re-attained pre-recession peaks. In contrast, nationwide-level manufacturing value added has just exceeded pre-recession peaks.