With apologies to Seinfeld. It seems like a long time ago that conservatives argued for cutting taxes and cutting spending so as to spur expansion — but the Brownback and Walker experiments in Kansas and Wisconsin are in some sense just being completed now, some five years after Governor Brownback's "shot of adrenaline" forecast.
Louis Johnston, who among other things has been following the Minnesota and Wisconsin experiences, brings my attention to this formal analysis of the Kansas and Wisconsin experiences, using a variety of econometric methods (differences-in-differences, shift-share, synthetic control method, etc.). From Two tales of two U.S. states: Regional fiscal austerity and economic performance, by Rickman and Wang [Working Paper version]:
This paper assesses the effects of U.S. state fiscal austerity on state economic performance using the recent economic experiments in Kansas and Wisconsin. Our results suggest that rather than experiencing stimulative growth effects from reductions in taxes, if anything, Wisconsin and Kansas experienced negative economic multiplier effects from reduced state and local government spending (Chinn, 2014) and increased economic uncertainty. The results for Kansas are consistent with evidence that its changes in business taxation resulted more in tax avoidance than creation of additional real economic activity (DeBacker et al., 2017). The economic experiments in Wisconsin and Kansas, along with those elsewhere (Arduin, Laffer and Moore Econometrics, 2011), were advocated as a means to stimulate growth in the short-run without having to reduce state government expenditures because of projected offsetting growth-induced tax revenue collections. In these two cases, the governing parties appeared to negatively affect their economies in the short run.
Internationally, the International Monetary Fund likewise admits underestimating the negative multiplier effects of fiscal austerity on European economies (Blanchard and Leigh, 2013). …
The authors compare performance in Kansas and Wisconsin against a synthetically matched comparator which matches along a series of predictor variables, and find that for most indicators, the synthetic comparator outperforms either Kansas or Wisconsin.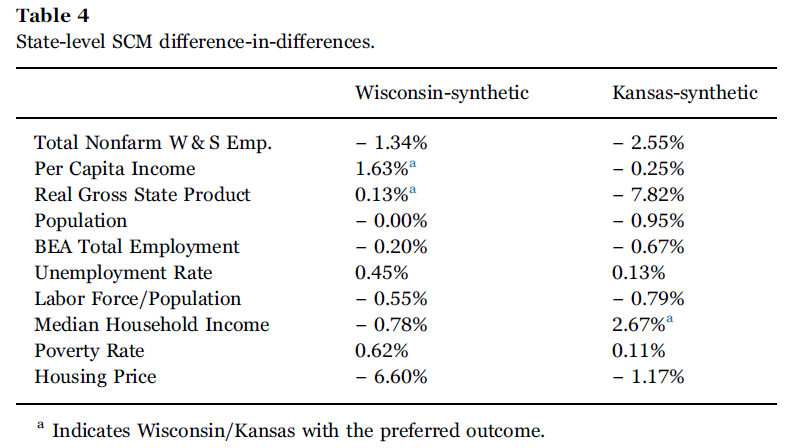 Source: Rickman and Wang (2018).
Figure 5 from the paper depicts how employment in the two states evolves, relative to comparator states that have the same characteristics. The characteristics are:
natural amenity scale; rural-urban continuum code; manufacturing dependence; mining dependence; farm dependence; persistent poverty counties; retirement destination; recreation dependence; long-term population losses (all year 2000 or earlier). Other predictor variables used include U.S. Census Bureau population density in year 2000, shift-share industry mix employment growth four-digit level (2002–2007) (Dorfman et al., 2011), U.S. Census Bureau educational attainment among the adult population (25+) in year 2000 high school completion, associate's degree, bachelor's degree or higher, Fraser's Economic Freedom Index (Goetz et al., 2011) and following the convention in SCM, pre-intervention values of outcome variable (2006, 2008, 2010). … industry dependence and the shiftshare
growth industry mix growth as predictor variables …


Source: Rickman and Wang (2018).
The solid line under the dashed indicates the state underperformed relative to the counterfactual.