(With apologies to Barbara Tuchman.)
From Bloomberg, "U.S.-China Trade Talks Grind to a Halt", in the wake of the announcement of $200 billion additional in taxable imports:
High-level trade talks between the U.S. and China have ground to a halt as the Trump administration threatens to escalate a trade war that shows little sign of abating, according to five people familiar with the matter.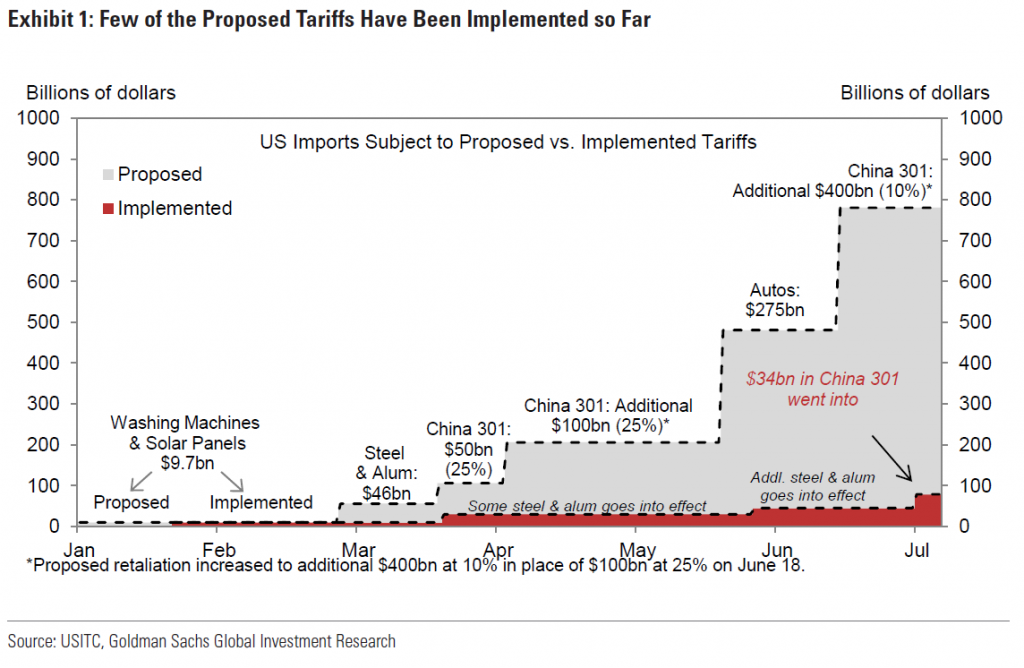 Source: Hatzius, et al., "Dissecting the Effect of Tariffs on US-China Trade," Goldman Sachs, 9 July 2018.
The graph from Goldman Sachs is already slightly overtaken by events — but one can see more and more of the tariffs are inching toward reality.
When last the Trump administration released a list of taxable imports from China, the Chinese MoC announced a counter-list within hours. It might take a little more time for them to calibrate a response for $200 billion worth of goods — but I'm gambling on a timely response.
The timing of the taxes on imports is probably off by a few days. The public comment period for the additional $200 billion of imports to be subject to Section 301 tariffs ends on August 31 — so more likely we see the imposition in September.