Does a Trump dummy "work"? Reader sam writes:
i think you're putting too much weight into too few observations.

Some things to make your analysis more convincing 1) show the if predictive accuracy increased with a trump dummy OUT OF SAMPLE or 2) try placing the 'trump dummy' variable a few months before or a few months after and see if that changes the coefs. i doubt you'll see much of an effect.
I did (2). sam is wrong. I address (1) by estimating a regression 1982q4-2016q4:
f = -14.838 + 0.083pop
f = -14.438 + 0.0835pop (corrected 11/10, 1:30 Pacific)
Adj.R2 = 0.08, N = 137, DW = 1.84, bold denotes significance at 10% msl using HAC robust standard errors.
Where f denotes mass shooting fatalities per quarter, pop is average monthly population in millions.
Here is a graph of actual cumulative, estimated cumulative, and upper 90% prediction interval. Actual exceeds predicted.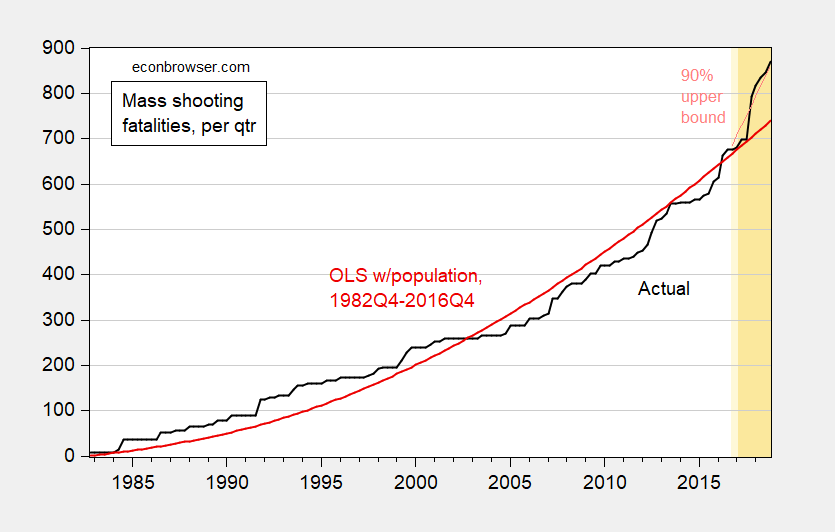 Figure 1: Cumulative mass shooting fatalities by quarter (black line), from 1982M08, through November 8, 2018. OLS fitted line (dark red), upper 90% prediction interval (pink). Orange denotes 2017Q1-2018Q4, light orange 2016Q4-2017Q1. Source: Mother Jones, accessed 11/8/2018, and author's calculations.
In other words, out-of-sample prediction suggests an important and statistically significant Trump effect (taking into account the fact the population is an included trend variable, and that inclusion of a deterministic trend usually leaves unchanged the Trump coefficient, as discussed in this post).