Today we are pleased to present a guest contribution written by Carlos Vegh (Chief Economist), Guillermo Vuletin, Daniel Riera-Crichton (economists), Juan Pablo Medina (consultant), Diego Friedheim, Luis Morano, and Lucila Venturi, in the World Bank's Latin America and the Caribbean unit. The views expressed herein are those of the author and should not be attributed to the World Bank, its Executive Board, or its management.
---
In light of recent political and institutional uncertainty worldwide, lower commodity prices, growing cost of foreign debt, slowing external demand from major trading partners, and an increase in the frequency and intensity of natural disasters due to climate change, the perception of risk in emerging markets is as high as ever and calls for comprehensive risk management strategies. Given the very heterogeneous risks faced by emerging markets, finding a unifying and policy-relevant framework as a key first step to any efficient risk management strategy becomes a quite challenging task.
In a recent report (Vegh et al., 2018), the World Bank offers a useful framework for risk management based on the degree of uncertainty behind the different shocks confronted by emerging markets. As summarized in Figure 1, the report distinguishes between risks that are predictable (i.e., those that have a known distribution or "known unknowns") from those that are completely unpredictable (i.e., when there is no prior about the shape or even the existence of an underlying distribution or "unknown unknowns"). Following Taleb's (2007) terminology, the latter are also referred to as "Black Swans" (see Taleb, 2007).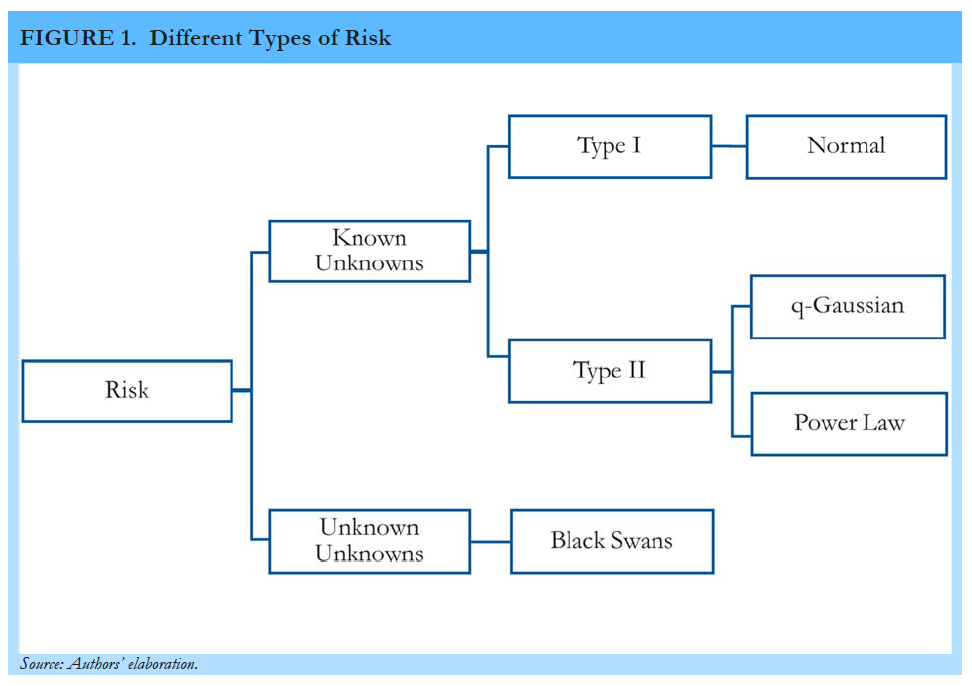 While insurance tends to be among the most efficient tools against risk, an important message of the study is that not all risks are insurable. Specifically, given their unpredictable nature, Black Swans are uninsurable. A good example is 9/11. Nobody could have predicted on 9/10 that 9/11 would happen so an insurance contract against that risk was ex-ante unconceivable. To minimize the impact of such events, emerging markets need to rely on other risk-management tools such as building resilience through better infrastructure, regional trade agreements, and diplomacy. The quick deployment of ex-post aid is another key component in the emerging markets' arsenal against Black Swans.
Risks with known probability distributions (known unknowns) are typically insurable, depending on their specific characteristics. As noted in Figure 1, the report distinguishes between risks with underlying normal distributions (Type I risks) and risks with distributions that exhibit fat tails (Type II risks). Figure 2, Panel A illustrates the archetypical example of a random variable with a normal distribution, human height. Given its well-defined distribution, finding insurance against a bet on the height of the next individual coming through the door should be cheap since the ex-ante mean will give us quite a good approximation. In other words, the probability of finding an individual several standard deviations above the mean is negligible.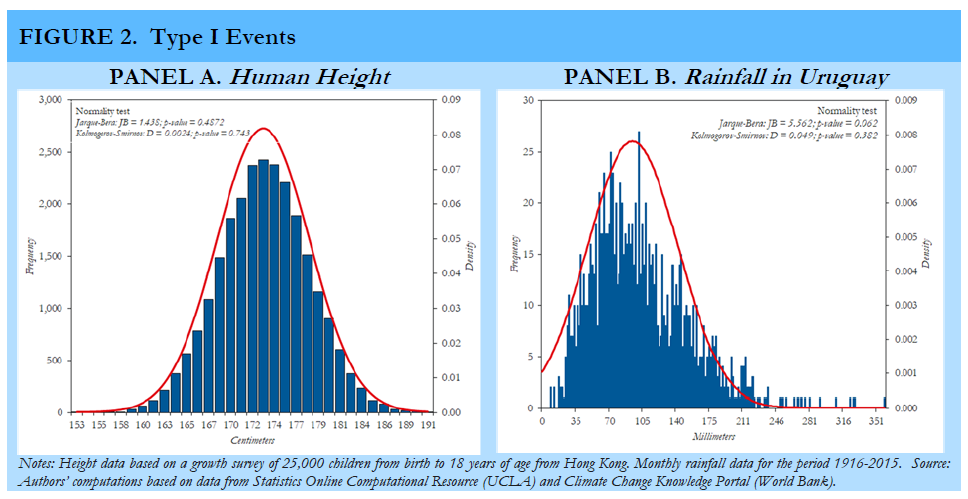 Unfortunately, normal distributions are extremely rare among economically relevant risks. A possible exception, rainfall in Uruguay, is shown in Figure 2, Panel B. Rainfall in Uruguay is critical, among other reasons, because hydroelectrical power plants account for about 60 percent of total energy production. When the country faces a drought, it needs to import more oil to compensate for this shortage. To insure against this risk, the Uruguayan government issued in 2014 a rainfall call option based on a rainfall index as a strike price and barrels of oil as the underlying asset. Type I risks should thus be relatively easy and cheap to hedge using international capital markets.
Most relevant risks for emerging markets are characterized by distributions with fatter tails compared to the normal distribution. These distributions range from q-Gaussians, with similar bell curve shape but fatter tails than those of a normal distribution, to power law type distributions where a large share of the distribution falls under the tails. Risks associated with fat tailed distributions are typically more difficult and expensive to insure.
How expensive or even how much insurance will be available depends on the fatness of the tails. On the one hand, risks associated with changes in international asset prices and commodities tend to follow bell-shaped distributions. Looking at the distribution of the change in oil prices (Figure 3, Panel A), one may think that these changes follow a normal distribution. However, this would be a costly mistake. The key difference between the underlying distribution of oil prices and a normal distribution lies in the fatness of the tails. In fact, assuming a normal distribution, oil traders in 1971 would have believed that an event of the size of the ensuing oil crisis was literally impossible. If those traders had assumed a distribution with fatter tails such as a q-Gaussian, they would have realized that, while rare, such an event was entirely inside the realm of possibility and thus would have tried to protect themselves. Given their relatively thin tails, insurance against shocks to most international traded commodities or assets (see, for example, the distribution of Dow Jones returns in Figure 3, Panel B) should be available and relatively cheap. Although fatter tails increase the risk of extreme events (and hence risk for insurers), the risks are still small enough and can be priced accordingly.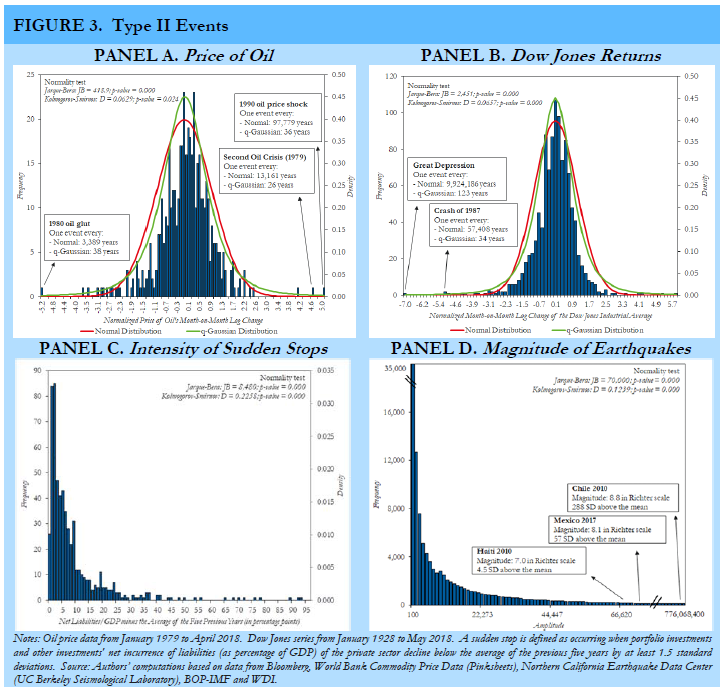 On the other hand, key financial risks affecting emerging markets such as sudden stops of capital inflows (Figure 3, Panel C) or natural disasters such as earthquakes (Figure 3, Panel D) follow distributions, such as the power law, with very fat tails. These fat tails imply that extreme events large enough to change the ex-ante moments of the distribution occur with a non-negligible probability. Insuring against this type of uncertainty becomes much more difficult.
While precautionary savings in the form of international reserves seem to be the only ex-ante solution to the problem of sudden stops (no insurance is available at this date), a quickly evolving insurance technology has started to provide solutions to natural disasters such as earthquakes in the form of catastrophe bonds (cat bonds). Albeit partial at best, cat bonds provide a new form of insurance against these natural phenomena. If the bond is triggered (i.e., if the earthquake occurs), the principal obligation to investors is automatically cancelled and immediately used for relief efforts. One of the most successful and larger examples of a cat bond was recently sponsored by the World Bank and covered the four countries of the Pacific Alliance (Chile, Colombia, Mexico, and Peru). The multi-country structure of the cat bond lowers the cost of insurance as the correlations among events between countries tend to be low.
In sum, insurance should be a key component of the countries' arsenal to manage their most significant risks. The access and cost of insuring against any specific type of risk will be determined by its underlying stochastic nature. As the tails of the distribution grow fatter, it becomes more difficult and costly to insure and other instruments in the risk management toolbox become more important. While new technology such as multi-country cat bonds has brought partial insurance against fat tail events, we still cannot insure against all risks. This will always be true in the case of Black Swans. Building resilience and improving access to ex-post aid are the only preventive tools available for such unpredictable events.
References
Taleb, N.N. (2007). The Black Swan: The Impact of the Highly Improbable (New York: Random House).
Vegh, C., G. Vuletin, D. Riera-Crichton, J.P. Medina, D. Friedheim, L. Morano, and L. Venturi (2018). From Known Unknowns to Black Swans: How to Manage Risk in Latin America and the Caribbean (LAC Semiannual Report, World Bank). https://openknowledge.worldbank.org/handle/10986/30478

---
This post written by C. Vegh, G. Vuletin, D. Riera-Crichton, J.P. Medina, D. Friedheim, L. Morano, and L. Venturi.