The Bureau of Economic Analysis announced yesterday that U.S. real GDP grew at a 2.6% annual rate in the fourth quarter of 2018. That's below the 3.1% average for the U.S. economy over the last 70 years, but better than the 2.2% average rate since the recovery from the Great Recession began in 2009:Q3.

One can also look at the year-over-year growth rate, which smoothes out some of the measurement error in the quarterly growth numbers. This climbed throughout 2018, and we ended the year with the highest year-over-year growth rate since 2015:Q2.
The solid growth numbers kept the Econbrowser Recession Indicator Index at 1.5%, among the lowest levels we ever see. That means the U.S. economic expansion has now been under way for 9-1/2 years, 2 quarters shy of the longest expansion on record (1991:Q2-2001:Q1).
It was encouraging to see nonresidential fixed investment make a positive contribution to both Q4 and year-over-year growth. That's a key cyclical contributor in a typical expansion and also provides the basis for future productivity growth.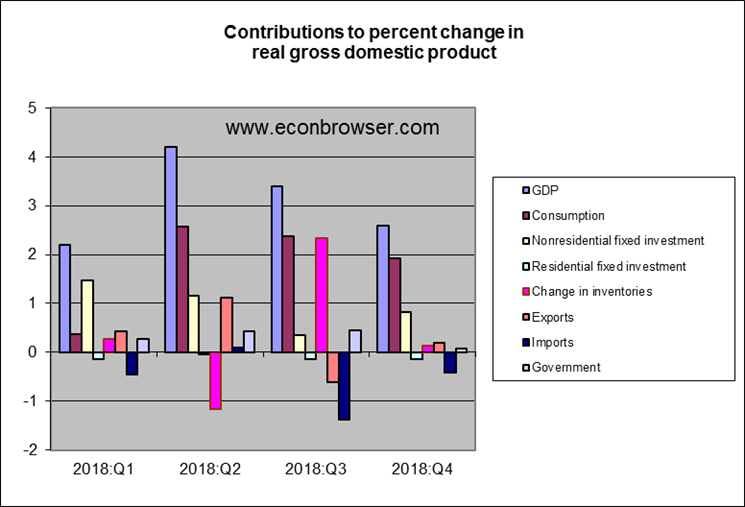 On the other hand, residential fixed investment is another variable that usually helps power a cyclical expansion. But housing was a slight drag on GDP throughout 2018.
Interest rates may have been one factor holding back housing. The 30-year mortgage rate rose from 3.5% in the fall of 2016 to close to 5% last November. The rate has come back down significantly since then, though historically new home sales take several months to respond to changes in interest rates. Perhaps limits on tax-deductibility of mortgage payments implemented in 2018 were another factor.
The GDP data were a month late being released due to the government shutdown. That event may also show up in the level of GDP when we see the numbers for 2019:Q1.