[Updated to include CoRev's analysis of trends 4/16/2019] I have repeated requests for raw data used in this post, part of which is plotted in this graph. Reader CoRev writes:
…Menzie has admitted he mis-attributed his full range of sources used, and has yet to provide ALL the data he used.
This is not true. I didn't admit mis-attribution. All I can conclude is that there is some confusion over terms.
First, there is some confusion over whether the data differs between BLS, or BLS via FRED.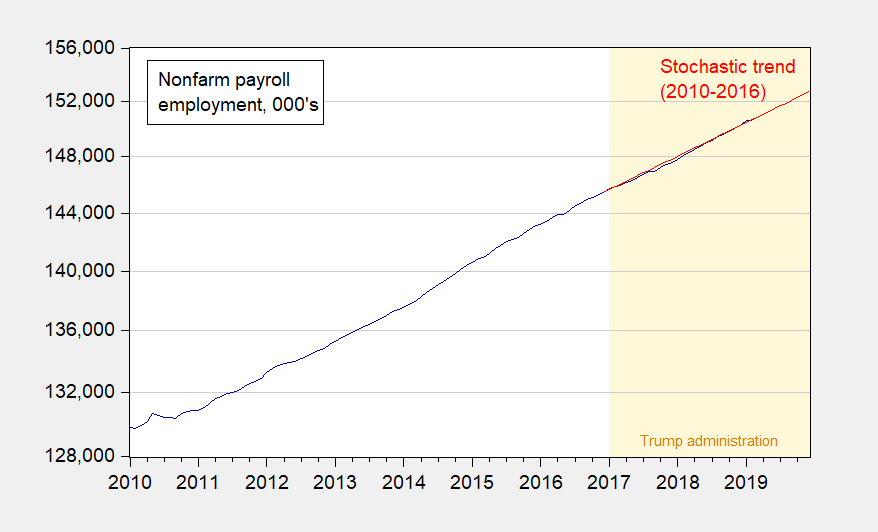 Figure 1: Nonfarm payroll employment (dark blue), and stochastic trend (red). Stochastic trend estimated using 2010-2016 data, and regression of first log difference on a constant. Source: BLS March 2019 employment situation release, and author's calculations.
Just to verify, the BLS series and the FRED data are the same. Here are the datasets.
The data links were added to the original post upon CoRev's request. But now it's alleged that I have not provided all the raw data. This statement is wrong, in my book.
The only missing data is the red line is data calculated by me using an ARIMA(0,1,0) on log PAYEMS. That is not included as "raw" data — it's not my definition of "raw" data — but here for completeness is the forecast series I generated:
Author's calculated random walk w/drift
Further, CoRev alleges:
Creating a smoke screen to avoid providing the actual data for replication or further analysis.
I will merely point out I am not responsible for the paranoid among us to be unable to re-create a random walk with drift forecast.
Update, 4/16/2019, 9AM Pacific: Reader CoRev has provided his check-file on my trend analysis. Without comment, here it is: