America needs all-tofu school lunches, subsidized tofu pizza, a Tofutti ice-cream substitute campaign… and more. I figure 205.4 pounds of tofu per American should do the trick. The situation facing American soybean farmers is dire, as shown below.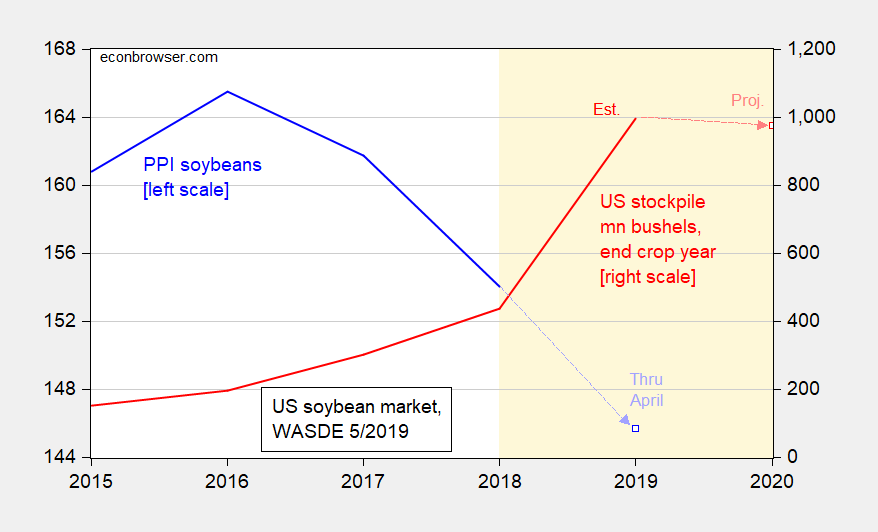 Figure 1: PPI for soybeans, by calendar year (blue, left scale), end-of-crop year soybean stocks, in millions of bushels (red, right scale). Source: BLS via FRED, and USDA ERS, WASDE May 2019. 
End crop year 2018/19 (Sep 30 2019) soybean stocks estimated at 995 million bushels, 798 million bushels below end crop year 2015/16. April PPI for soybeans 16.6% below April 2018.
Suppose we wanted to restore stockpiles to end 2015/16 levels (May WASDE estimates for end 2019/20 levels is 975 million bushels, even before the latest round of escalation between Trump and Xi). In order to calculate what has to be done in terms of enhanced domestic consumption, one needs the following parameters.
Each bushel yields 48 lbs of protein. Each pound of tofubeans requires yields about 1.75 pounds of bean protein tofu (1.9 lbs tofu per 1.1 lb protein is the recipe).
800 mn bu × 48 lbs protein/bu × 1.75 lbs tofu/lb protein = 67.2 bn lbs tofu
To calculate the requisite elevated per capita consumption, one needs US population, which equals 327.2 million.
67.2 bn lbs tofu / 327.2 million persons = 205.4 lbs tofu/person
I've not been able to determine current US per capita consumption, but I suspect an additional 205.4 lbs/capita per year seems implausible.
Mr. Trump stated today we are winning against China. And Oceania has always been at war with Eastasia.