5yr-3mo spread continuously inverted since March 7th; let's hope Cam Harvey's estimated probits are wrong this time around…(although I doubt they are).
Figure 1: Treasury 10yr-3mo spread (blue, left scale), 10yr-2yr (red, left scale), 5yr-3mo (teal, left scale), in % and Economic Policy Uncertainty index (black, right scale). Source: Fed via FRED, US Treasury, and policyuncertainty.com, accessed 6/12/2019.
On the other hand, economic policy uncertainty has dropped back into normal levels (for the Trump administration). How does policy uncertainty matter? Here's what CEO's say.
Interesting picture from BBVA today.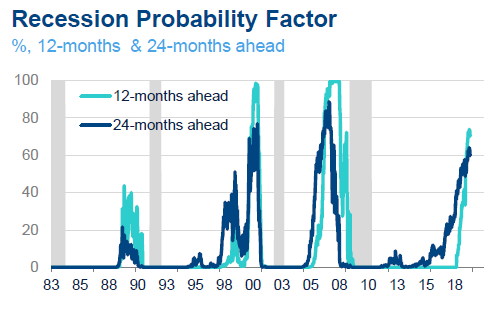 If I read it right, in technical terms, we are toast.