Down, down, down.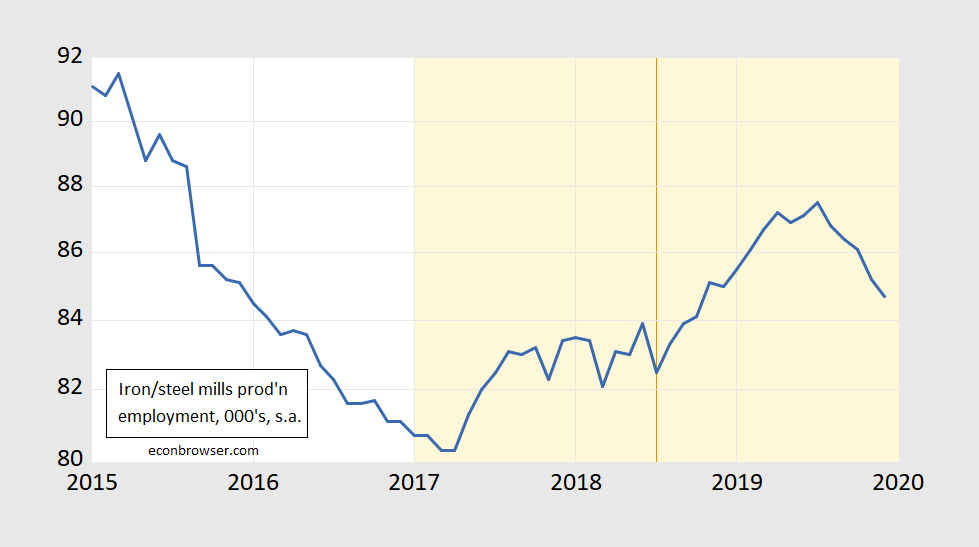 Figure 1: Employment in iron and steel mills and ferroalloy production (NAICS3311), 000's, s.a. (blue, on log scale). Light orange denotes Trump administration. Source: BLS.
If iron and steel primary employment looks anything like primary metal production overall employment (and it does – Rsquared = 0,81), December employment will be yet again lower.
To add insult to injury, not only is raw steel employment not rising, downstream producer employment is hurting so that the Trump administration is setting in motion cascading protection. From Chad Bown:
On January 24, 2020, Trump delivered some of those tariffs for a handful of high-content steel products, including steel nails and car bumpers. While his new tariffs did not cover kegs, Trump implicitly acknowledged Czachor's concern by motivating his tariffs because imports of these sorts of high-content steel products had increased. But the increase in imports was due at least in part to American consumers of nails and bumpers switching to foreign suppliers to avoid paying for the American versions of products that Trump's tariffs had made more costly.

Economists refer to a second round of tariffs on products hurt by earlier duties as "cascading protection." These sorts of cascading barriers are worrisome for two other reasons aside from the economic impact of Trump's new tariffs.