The data from the Quarterly Census of Employment and Wages (QCEW) suggests to me that employment in June 2019 (last available QCEW data) is 505 thousand lower than estimated (although possibly as little as 111 thousand, as large as 899 thousand, using a 95% prediction interval).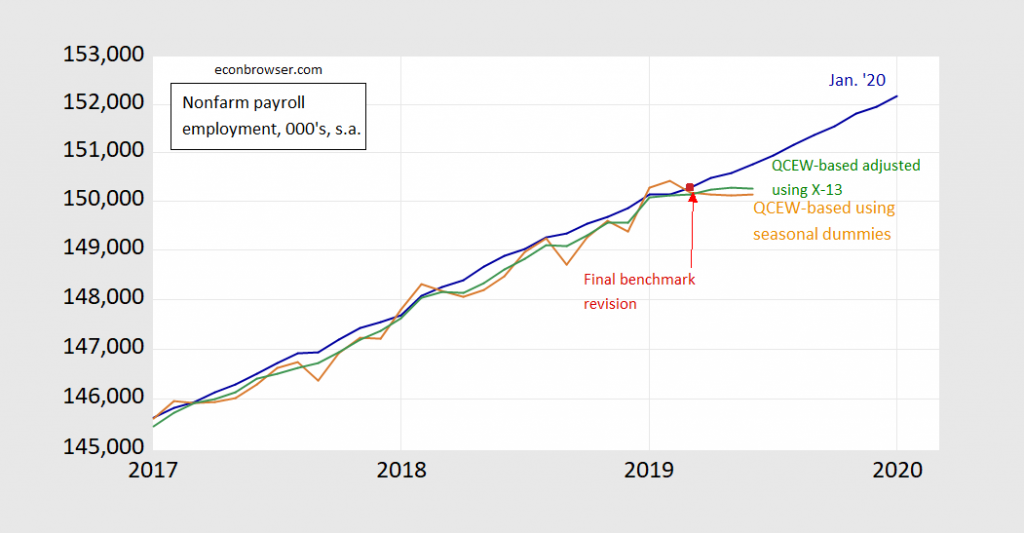 Figure 1: Nonfarm payroll employment, January 2020 release (blue), estimate using log-log regression on X-13 seasonally adjusted QCEW on 2001M01-2019M03 (green), estimate using log-log regression on QCEW with seasonal dummies on 2001M01-2019M03 (brown), and final revision for March 2019 (dark red square). Source: BLS via FRED, BLS, and author's calculations.
The data used to generate Figure 1 are here.
If you read the documentation for the benchmark revision, you'll see that the data after March 2019 data is characterized as "post-benchmark", meaning that really the substantive change is to the level — not contours — of employment.
Without more recent QCEW data, we can't estimate an alternative trajectory of employment after June 2019.