Today, we are pleased to present a guest contribution written by Laurent Ferrara (SKEMA Business School and QuantCube Technology), Alice Froidevaux (QuantCube Technology) and Thanh-Long Huynh (QuantCube Technology).
---
Nowcasting macroeconomic activity has proved extremely useful to track in real-time fluctuations of macro aggregates like GDP, inflation, consumption … Indeed, Quarterly National Accounts are generally published on a quarterly basis by Statistical Institutes, with a delay of release of about one or two months. For example, to be aware of the economic activity in the first quarter of the year (from beginning of January to end of March), we need sometimes to wait until mid-May, depending on the country considered.
This is why nowcasting tools have been developed in order to be able to inform policy-makers and economic agents about the current state of the economy. As regards the U.S. economy, Atlanta Fed and New York Fed release on a regular basis estimates of current and future quarter-over-quarter GDP growth rate, expressed in annualized terms. Surprisingly, as March 25, 2020, the nowcast of Atlanta Fed for 2020q1 was of 3.1%, while it is clear today that the Covid-19 crisis is likely to have a strong impact on the economic activity in March, thus on Q1 (see previous Econbrowser posts here and here). The GDP nowcast from New York Fed was a bit lower at 1.49% as March 20, but still quite high.
How is that? In fact, all those nowcasting tools have been extremely well built but they only integrate official information, such as production, sales, surveys, that are released by official sources with a lag. Some price variables, such as stock prices that are reacting more rapidly to news, are also included in the nowcasting tools, but they do not strongly contribute to the indicator.
So how can we improve nowcasting tools to reflect high-frequency evolutions of economic activity, especially in times of crises? A solution is to investigate alternative data, that are available on a high-frequency basis. The multiplication in recent years of the number of accessible alternative data and the development of methods based on Machine Learning and Artificial Intelligence capable of handling them constitute a break in the way of following and predicting the evolution of the economy. Moreover, the power of digital data sources is the real-time access to valuable information stemming from for example multi-lingual social media, satellite imagery, localization data, textual databases, …
Let's take the example of the Covid-19 crisis. On 9 January 2020, a man who had contracted COVID-19 died of a heart attack, becoming the first known death from the virus. On 13 January, the World Health Organization (WHO) reported the first known case outside China, a woman joining Thailand from Wuhan. The US reported the first death from the Covid-19 in the country, in the state of Washington, on 1rst March. A chronology of the events can be found in the CEPR e-book edited by Baldwin and Weder di Mauro (2020). Basically all the countries impacted started non-pharmaceutical interventions mainly based on social distancing. Against this background, the economic impact is expected to be quite strong and to generate a worldwide recession.
Within QuantCube Technology, we have put forward a nowcasting tool for U.S. GDP in real-time, by using various alternative sources of information such as (i) international trade of goods stemming from a daily tracking of ships around the globe, (ii) crude oil transportation also stemming from daily tracking of ships and (iii) a proxy of the job market created by aggregating the job offers per sectors available on websites. Those alternative data are available on a daily frequency without any publication lags and are combined with two sources of official information on household consumption (Personal Consumption Expenditures) and on consumer sentiment (University of Michigan). The composite index is presented below and aims at tracking year-over-year U.S. GDP growth.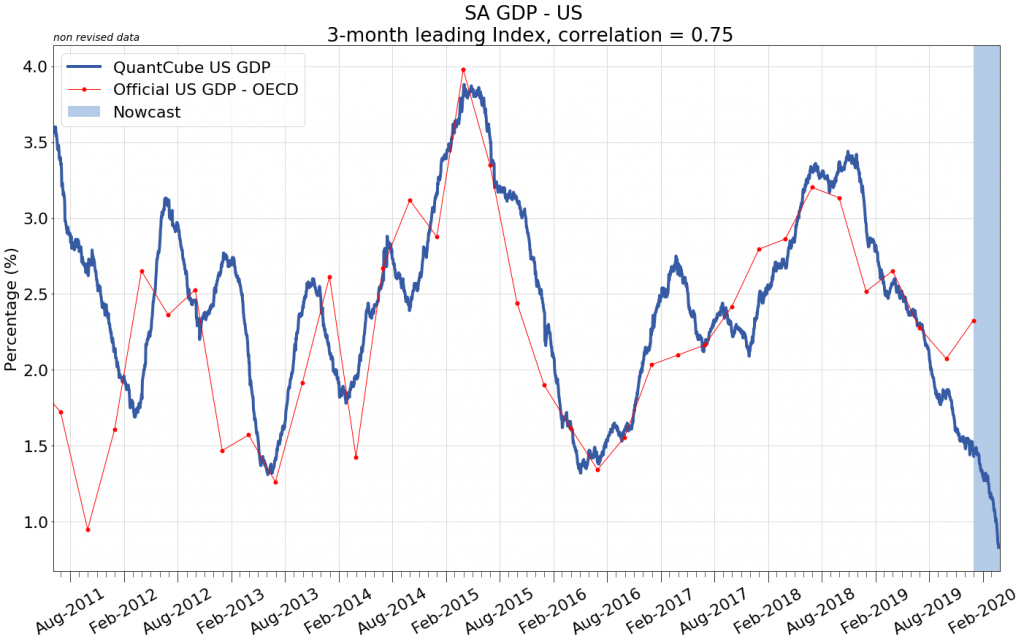 Figure 1: U.S. Economic Growth Index tracking the year-over-year growth rate of U.S. GDP in real-time (Source: QuantCube Technology).
We clearly see that this index is able to efficiently track U.S. GDP growth in real-time (correlation of 0.75), especially as regards peaks and troughs in the cycles. For example, focusing on the year 2016, we observe that the index anticipated the slowing pace of the U.S. economy for this specific year which was the worst year in terms of GDP growth since 2011, at 1.6% annually. More recently, the index pointed out the deceleration of the U.S. economic activity starting from mid-2018, amid escalating trade tensions with the U.S. and rising global uncertainties.
Focusing on the latest data, the US nowcast for 2020q1 stands at 0.80% on 25 March 2020, consistent with a quarter-over-quarter GDP growth of about -3.0% in annualized terms. The U.S. recession is likely to be unavoidable.
Those massive alternative data have the great advantage of being available at a very high frequency, thus leading to signals that can be delivered well ahead of official data. Also, those data are not revised, avoiding thus a major issue for forecasters. However, there is no free lunch.  An important aspect that is not often considered in empirical works is related to the cleaning of raw data. Indeed, it turns out that unstructured raw data are often polluted by outliers, seasonal patterns or breaks, temporary or permanent.  For example, when dealing with daily data, they can present two or more seasonalities (e.g. weekly and annual).
---
This post written by Laurent Ferrara, Alice Froidevaux, and Thanh-Long Huynh.