Today we are fortunate to be able to present a guest contribution written by Mark Copelovitch  (University of Wisconsin – Madison) and David Singer (MIT).
---
"The peculiar essence of our financial system is an unprecedented trust between man and man; and when that trust is much weakened by hidden causes, a small accident may greatly hurt it, and a great accident for a moment may almost destroy it." –Walter Bagehot (1873), Lombard Street: A Description of the Money Market, pp.158-9.
Why do banking crises occur? In our new book, Banks on the Brink: Global Capital Securities Markets, and the Political Roots of Financial Crises, we seek to understand why some countries are more prone to banking crises than other countries or at different times.
At the simplest level, banks collapse because customers lose trust in them. Trust is ubiquitous in the financial system. Banks trust that customers will repay their loans. Depositors trust that banks will manage their money carefully. And banks trust other banks to provide liquidity and to remain standing day after day. But as Walter Bagehot noted in his famed account of London's 1866 financial panic, trust in the financial system can erode from "hidden causes." When trust is weakened, even seemingly small accidents—like the collapse of London bank Overend, Gurney, and Company, which triggered the 1866 panic—can cause systemic financial crises.
The details of individual banking crises vary, but rarely does trust in the banking system evaporate without due cause.  In the Panic of 1907, banks collapsed because they were complicit in speculation and market manipulation that led to massive financial losses. During the Asian financial crisis of the late 1990s, the trigger for the collapse of Thai banks was speculative lending to real estate developers, which led to a boom and bust in the real estate market. And in 2008, after a decade of easy mortgages to borrowers with shaky credit histories and a growing bubble in the real estate market, investors grew fearful that banks and holders of mortgage-backed securities might never get their money back.
Our book highlights two key triggers of banking crises. The first, levels of foreign capital inflows, sets the stage for potential distortions in the financial system. Large capital inflows have been found to be a consistent correlate of banking crises. Indeed, many scholars believe that the malignancy of global capital flows is the most likely culprit behind banking crises.  In Lost Decades, their analysis of the Great Recession, Chinn and Frieden (2011) point to the enduring prevalence of the capital flow cycle, in which "capital floods into a country, stimulates an economic boom, encourages high-flying financial and other activities, and eventually culminates in a crash." They note that many previous crises fit this pattern, including the Mexican and Asian crises in the 1990s, and dozens of others.  Reinhart and Rogoff, in this This Time is Different (2009), suggest that the pattern has deep historical roots. One of their key findings, backed by data covering 800 years of financial crises, is that large current account deficits, asset price bubbles, and excessive sovereign borrowing are common precursors of crises across space and time.  Moreover, bank failures were relatively rare during the Bretton Woods monetary system from the end of World War II to the early 1970s, when governments enacted strict controls on capital movements (Helleiner 1994). This overall finding—that foreign capital opens up a Pandora's Box of financial distortions—now has the status of conventional wisdom in academic and policy circles.
The potential dangers of capital inflows are real. But existing research has failed to emphasize that foreign capital is not always destabilizing for the banking system. For every instance of a banking crisis preceded by large capital inflows, there are countless examples where inflows are harmlessly—and even productively— channeled throughout the national financial system.  For example, while the U.K. and the U.S. both experienced large current account deficits in the years preceding the Great Recession. Australia and New Zealand also experienced substantial current account deficits, but their banking systems escaped relatively unscathed.
Why do capital inflows lead to banking crises in some cases but not in others? To explain this, we focus on a second variable: national financial market structure. We argue that the substantial variation in the relative prominence of banks versus securities markets (Figure 1) determines whether capital inflows are channeled safely and productively through the national economy, or whether they instead cause banks to take on excessive risks and increase the likelihood of a financial crisis.  Banks often sit alongside other financial institutions, including stock and bond markets, which provide alternative sources of financing for borrowers and alternative investments for savers. When banks are conservative because of the relative absence of competition for financial intermediation, foreign capital can be safely channeled into the system without causing bank instability. On the other hand, when banks sit alongside viable securities markets, capital inflows exacerbate banks' risk taking and increase the probability of a crisis.
Figure 1: Market/bank ratio, OECD countries, average, 1990-2011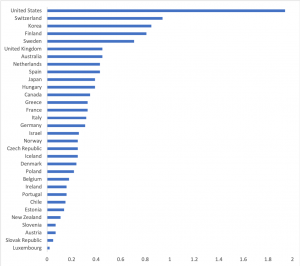 Source: World Bank Global Financial Development Database, calculated as the ratio of stock market trading volume to total bank lending
To test our argument, we analyze data from the 1970s through the early 21st century for most of the world's developed economies. Figure 2 illustrates the core result of our statistical analysis: capital inflows are only correlated with banking crises under certain conditions – namely, when they flow into a financial system in which commercial banks compete alongside large and highly-developed securities markets.
Figure 2: Average Conditional Marginal Effect of Gross Portfolio Capital Inflows on Probability of a Banking Crisis, by Market/Bank Ratio (World Bank banking crisis classification), 1970-2011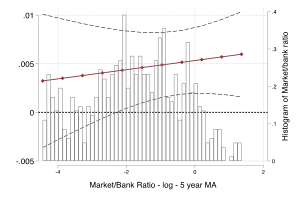 Coefficient on change in gross portfolio inflows (%  of trend GDP, 5-year moving average)
In this book, we not only explore the determinants of banking crises, we also explore how capital inflows and financial market structure interact to affect banks' risk taking. The conventional wisdom linking capital inflows to crises emphasizes distortions in the allocation of capital as it is channeled through banks and other intermediaries (Portes 2009).  The question is precisely how this plays out and which distortions are most salient.  Some scholars find a clear link between capital inflows and the volume of credit.  For example, Schularick et. al. (2012), in their groundbreaking work on the long-term patterns of financial instability in industrialized countries, find that 1) domestic credit growth is the single most important determinant of banking crises; and 2) capital inflows, as measured by current account deficits, go hand-in-hand with credit booms, especially in the post-Bretton Woods era.  In contrast, other scholars, such as Amri et. al. (2016), find only a weak relationship between capital inflows and domestic credit growth and notes that this connection is diminishing over the last two decades.
If capital inflows lead to banking crises by triggering changes in the volume of domestic lending, then we should find a similar conditional, interactive relationship between capital inflows, financial market structure, and credit growth as we did with banking crises.  However, we find no such relationship – either unconditionally or conditionally – between capital inflows and the growth rate of domestic bank credit.  While capital inflows are conditionally correlated with banking crises, the relationship does not appear to operate through a simple increase in the volume of bank loans.  Rather, credit booms appear to be a separate channel of financial instability from the one we identify in our analysis.
In contrast, we do find evidence that capital inflows influence the propensity of banks to take on greater risk, through a reduction in capital cushions and/or the assumption of greater insolvency risk – and that this varies depending on a country's domestic financial market structure. In other words, capital inflows – in financial systems where banks complete alongside large securities markets – affect the quality of bank lending and the composition of bank balance sheets.
Figure 3 illustrates this second core result. It shows the conditional relationship between capital inflows, market structure, and national level averages of Tier 1 commercial bank capital.  These results strongly suggest that capital inflows trigger banking crises not because they cause credit booms (surges in the volume of bank lending), but because they lead banks to reduce their capital holdings and lend to more risky customers.  This decline in the quality of banks' loan portfolios, rather than an increase in the number and amount of loans, appears to be the "smoking gun" linking capital inflows to banking crises in industrialized countries.
 Figure 3: Average Conditional Marginal Effect of Gross Portfolio Inflows (% trend GDP) on Tier 1 Commercial Bank Capital Ratio, by Market/Bank Ratio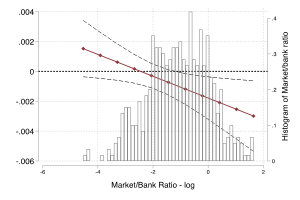 Coefficient on change in gross portfolio inflows (%  of trend GDP)
The political roots of financial market structure
While our statistical analysis shows that financial market structure mediates the effects of foreign capital inflows, it cannot explain how such variation in market structure developed in the first place. To resolve this puzzle, we turn to historical analysis, zeroing in on the political decisions that shape the structure of financial markets that make certain countries especially vulnerable to banking crises. Through detailed historical case studies of Canada and Germany, Banks on the Brink shows how seemingly innocuous political decisions about financial rules can accumulate over decades and solidify a country's financial market structure for generations.
In our case study of Canada, we show that the country's remarkable history of bank stability has been attributable in part to its equally remarkable fragmented and underdeveloped stock markets. The Canadian Constitution granted the national government the sole authority to regulate the banking industry, but authority over stock markets was relegated to the provinces. During the economic crisis of the early 1930s, while the U.S. government seized the opportunity to create a national securities regulator and to minimize the role of state regulatory agencies, Canada made few changes to its regulatory system. The government took no steps to create a national regulator, instead reaffirming the authority of the provinces to supervise their stock exchanges in accordance with their particular needs. To this day, Canada is the only industrialized country without a national securities regulator. We argue that the country's underdeveloped securities markets have had a salutary effect on its banks, which have been successful in channeling foreign capital to borrowers over the last four decades without taking on undue risk.
Like Canada, Germany has a long history of bank stability, but it has recently taken a dangerous turn. Our case study highlights how policy decisions in the aftermath of two major financial crises—the Panic of 1873 and the crisis of 1931—arrested the development of German securities markets and solidified a heavily bank-centric financial system. Interest-group and party politics, rising nationalism and anti-Semitism in the late 19th century, and the Nazis' ascendance to power in the 1930s all conspired to hobble the development of German stock markets prior to World War II, allowing banks to engage in long-term conservative lending with "patient capital" throughout the postwar era until the 1980s. In recent years, however, financial competitors from within and outside Germany have prompted the large German banks to seek alternative sources of revenue. Deutsche Bank, Commerzbank, and other large banks have become champions of Finanzplatz Deutschland, a single large securities market designed to compete with New York and London. As this market has developed, the conservative bias of German banks has eroded, and many required emergency bailouts in the early 21st century.
Key implications
Banks on the Brink shows that politics is the root cause of financial crises, but not in the way that many observers might imagine. Bankers themselves have political preferences and may express them publicly, and some banks lobby for favorable public policies and donate to political campaigns and political action committees. But at a deeper level, banks are embedded in financial markets, which themselves reflect an accumulation of government choices. Banks today operate in an environment shaped by these political choices, some of which make banks more resilient, others of which make them more prone to crisis. This variation, across space and time, explains why some countries find themselves more vulnerable to banking crises and the dangers of foreign capital inflows than others.
These findings have key policy implications for how to minimize the risk of banking crises in the U.S. and elsewhere. In light of the slow-moving nature of financial market structure, any policy proposal to fundamentally alter the shape and depth of financial markets will likely be dead on arrival. Proposals to re-introduce Glass-Steagall-type regulations which separate commercial and investment banking might be episodically popular in countries like the U.S., but as our evidence suggests, they would fail to address the underlying reasons for banks' excessive risk taking. We also argue against capital controls. Instead, we suggest that regulators should focus their efforts are tightening bank capital requirements, especially in financial systems with prominent or growing securities markets.  Governments are unlikely to be able or willing to fundamentally alter the structure of domestic financial markets in the short- or medium-term. But they can ensure that financial institutions act more prudently, especially when foreign capital inflows flood into the country and the temptation for  banks to engage in more risky behavior is greatest.
---
This post written by Mark Copelovitch and David Singer.