From Mr. Brian Riedl, in NRO:
The multiplier is small because, in the modern economy, idle savings are not common — even during a recession.
I don't understand Mr. Riedl's logic (see my puzzlement here), but I'll just focus my comments on his reliance of Barro's empirical assessment of the multiplier. I think it useful to survey the academic literature, particularly the recent research, rather than hang everything on one paper.
More systematically, we can do a meta-analysis. Here is the abstract from a paper published in Oxford Economic Papers:
I apply a meta-regression analysis to a unique data set of 104 studies on multiplier effects to derive stylized facts and quantify the differing effectiveness of the composition of fiscal impulses, adjusted for study design characteristics. Public spending multipliers are close to 1 and about 0.3 to 0.4 units larger than tax and transfer multipliers. Public investment multipliers are even larger than those of spending in general by approximately 0.5 unit. Multipliers vary with study design, whose influence should be laid open when drawing policy conclusions. The analysis provides guidance concerning influential factors, their significance, and magnitude.
Ungated working paper version of the article, here.
It's not a long paper, but one can easily see how the multiplier estimates line up against Mr. Riedl's "near zero" estimates.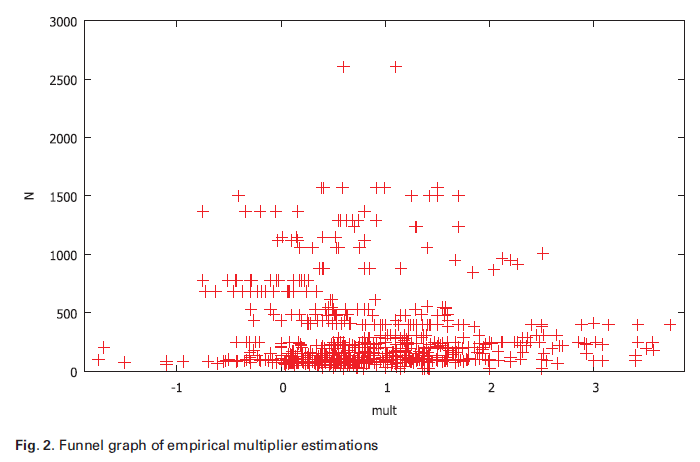 Now, there is a great deal of heterogeneity in multipliers (government consumption, defense spending, government investment, transfers, tax cuts, etc.), so it's useful to disaggregate a bit. That's done in Table 1 from the paper.
Key: public consumption (CONS), public investment (INVEST), military spending (MILIT), direct public employment (EMPLOY), transfers to households (TRANS), and tax cuts (TAX), public spending, not specified (SPEND); and budget deficits (DEFICIT).
Mr. Riedl continues his argument against stimulus efficacy by rewriting history:
While the massive 2009 stimulus is often cited as a success, a closer inspection reveals otherwise. The economy was already out of recession by the summer of 2009, before more than a small fraction of the stimulus had even been implemented.
True that the trough was dated at 2009Q2 by NBER — of course the output gap was something on the order -6.2% (log terms, using latest vintage of data, January 2020 CBO estimate of potential GDP). From Riedl's description, I guess we should've just sat back and enjoyed the associated elevated unemployment, rather than try to shrink the output gap.