Paweł Skrzypczyński has taken on the task of tracking what he calls the Covid-19 recession as the data come out: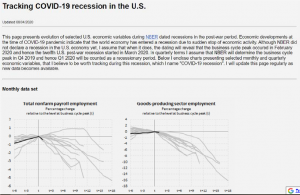 So stay tuned to this site as the data roll in. (Note: the NBER Business Cycle Dating Committee has not yet declared a peak in economic activity, and is unlikely to do so for some time.)
Here's my tracking of just 5 indicators from a few days ago (none of these series have been updated since):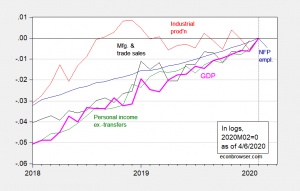 Figure 1: Nonfarm payroll employment (blue), industrial production (red), personal income excluding transfers in Ch.2012$ (green), manufacturing and trade sales in Ch.2012$ (black), and monthly GDP in Ch.2012$ (pink), all log normalized to 2019M01=0.  Manufacturing and trade sales for February assumed to be at stochastic trend for 2018-2020M01. Source: BLS, Federal Reserve, BEA, via FRED, Macroeconomic Advisers (3/26 release), and author's calculations.
More high frequency data are used in generating the forecast discussed in this post.
As of today, the Atlanta Fed GDPNow nowcast for Q1 is 1% SAAR, the NY Fed 1.5% SAAR. IHS MarkIt (formerly Macroeconomic Advisers) is at -3.7% SAAR (note this last nowcast uses judgment, while the first two use purely historical correlations to nowcast.)