Periodically, I get emails from some guy named Tim Congdon of the Institute of International Monetary Research, bewailing the tendency "to shrug off the inflation risks that have in the past arisen from too much monetary financing of large budget deficits." So…big increases in the Fed's balance sheet: will they collide with reduced supply over the medium run to produce inflation? TIPS say no…

Figure 1: Money base, in millions $ (left scale) and 5 year inflation breakeven, calculated as GS5-FII5, % (right scale). 
One can see the logic of the anxiety. Consider using a IS-LM-AD-AS model (from these lecture notes on the Covid-19 shock). AD and medium run AS shift in (red arrows), but in short run AD inward shift is bigger. Then we get deflation in short run. In medium run, if fiscal and monetary policy are unable to counteract autonomous consumption and investment declines, then the price level will adjust downward (purple arrows).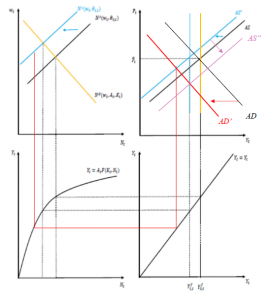 But if over time the monetary impulse is big enough so the AD shifts out (say the red arrow is undone), an attempt to re-attain the original level of output Y0 will result in inflation…
It's just that the markets don't yet see inflation on the horizon. Now, one might say that expectations inferred from TIPS are questionable. We can look to the last time when folks worried about hyperinflation in the wake of QE1, QE2, QE3. Then the mean error from 2008M11 to 2015M03 was -0.06 percentage points (TIPS overpredicted inflation). If I account for TIPS liquidity issues by dropping 2008M11-12, the overprediction rises to -0.13 percentage points.
Well, markets aren't omniscient, so we could get surging inflation. They just aren't signalling it.
Addendum, 4/29: Bruce Hall seems to think closing down means no output. My point is we could've — with competent leadership and administration — done something closer to S. Korea (few deaths/million) and minimized the downturn – Korea has only a 1.4% q/q decline.