That's from an article today:
The White House will not release an updated round of economic projections this summer, breaking from precedent as the U.S. faces its deepest downturn since the Great Depression, two administration officials familiar with the decision confirmed to The Hill on Thursday.
The Council of Economic Advisers (CEA), the internal White House economic team, will not release the typical midsummer review of its initial economic projections in July or August even as top Trump administration officials publicly predict a swift recovery from the crisis caused by COVID-19. The projections are typically produced jointly by the Office of Management and Budget, CEA and Treasury Department.
What does this decision mean, effectively? It means that the Administration's already optimistic forecast (as of January) is now ludicrously delusional.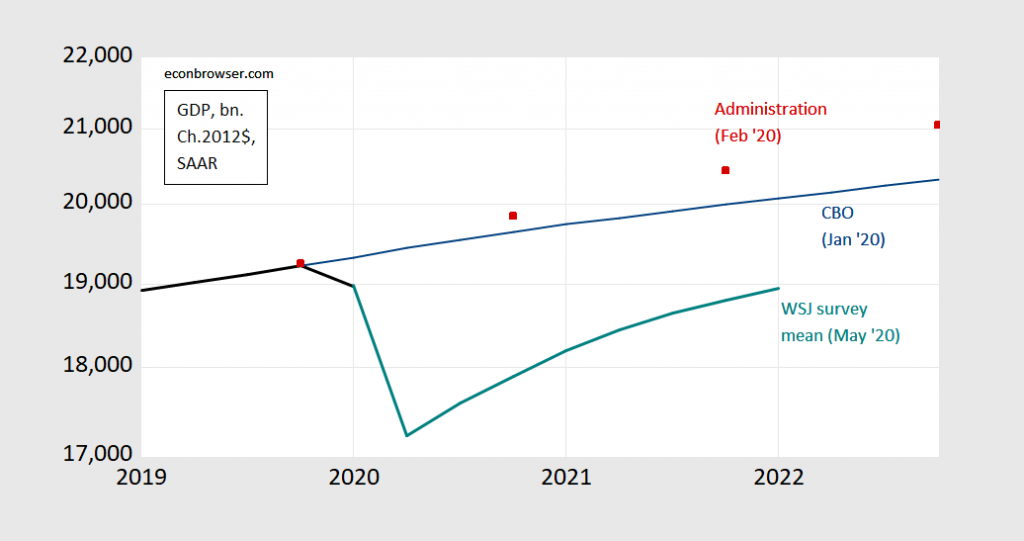 Figure 1: GDP in bn Ch.2012$ SAAR as reported (black), Administration January 2020 forecast (red square), CBO January 2020 projection (blue), Wall Street Journal May survey mean (teal). Source: BEA, 2020Q1 2nd release, CBO, Budget and Economic Outlook, January 2020, OMB, Budget for FY2021, February 2020, Table S-9, Wall Street Journal May survey, and author's calculations.
This decision also means, presumably, that revenue, expenditure and deficit projections will be similarly nonsensical. I found this Administration defense particularly humorous:
A senior administration official noted that there is precedent for not releasing the data, pointing to 2017, when the Trump administration did not release the economic projections. The official said that the figures were released in both 2018 and 2019.
Well, the 2017 exception was also during the Trump administration. Hence, this decision is unprecedented insofar as normally behaving administrations are concerned.