I see Governor DeSantis say all is under control, as the Florida economy remains largely open. Economic activity as of mid-June did recover. But Covid-19 surges suggest a retrenchment in the future; the extent of this will depend on how much the epidemic progresses, and what the governor's tolerance for fatalities/day is.
First, the recovery in employment.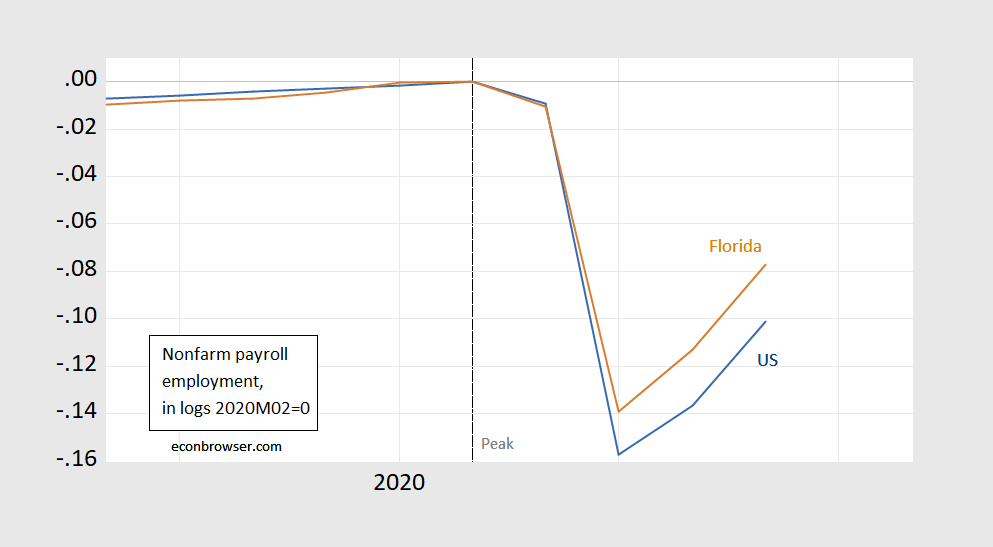 Figure 1: Nonfarm payroll employment in US (blue), in Florida (brown), in logs, normalized 2020M02=0. Source: BLS.
However, toward the end of the month, even in the absence of government restrictions, behavior was moving toward less activity.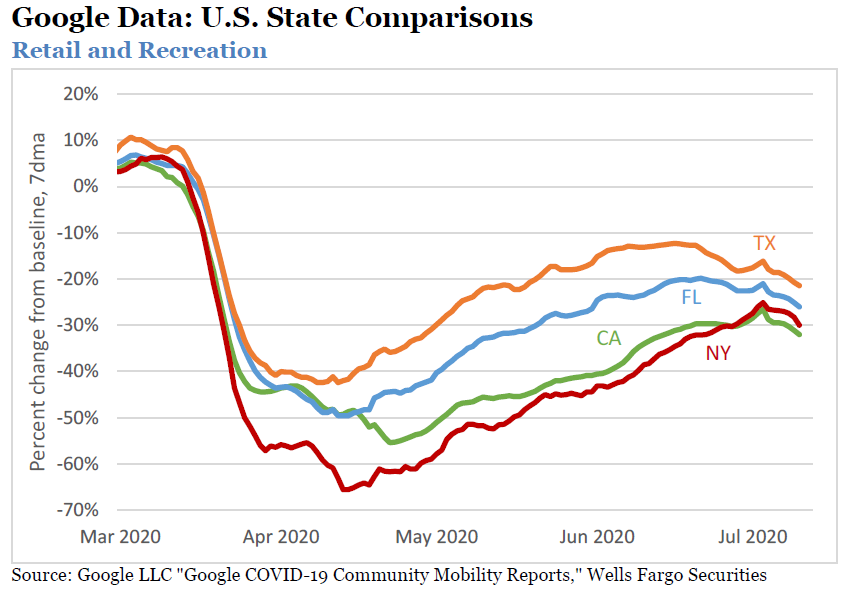 Source: Wells Fargo Global Mobility Report, July 15. Applies to google data through 10th, apple data trhough 15th.
The data are not seasonally adjusted, so one has to be careful in interpretation. However, there seems to be some reduction in economic activity, as indicated by initial unemployment insurance claims.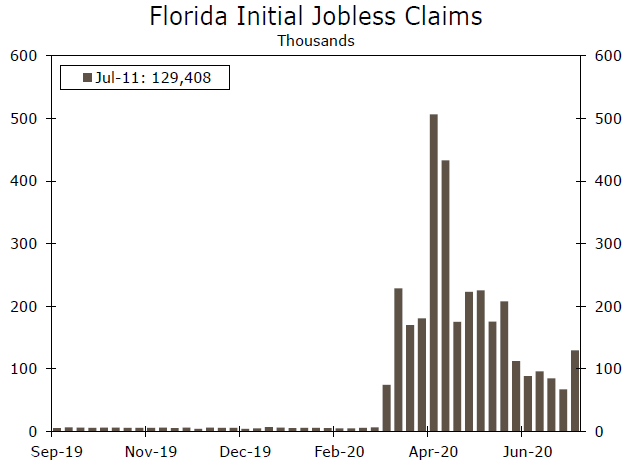 Source: Wells Fargo, "Florida Payrolls Continue to Recover in June," July 17, 2020.
Wells Fargo comments:
There is also some early evidence that the recent improvement in the labor market may be beginning to stall out. For the week ending July 11, the advance estimate of initial jobless claims doubled to almost 130,000, the highest mark since late May. The jump in claims could be the result of persistent processing bottlenecks and delayed reporting from the long Fourth of July holiday weekend. The reversal, however, coincides with many bars and nightclubs shutting down, which was likely to push claims higher anyway. Payroll growth will likely remain in positive territory in coming months, but the pace of improvement will almost certainly slow. While the resurgence of COVID-19 has led to some new restrictions, there are still plenty of other industries re-opening and that should help sustain Florida's nascent recovery.
So it seems to me the evolution of activity seems to depend on the Governor's reaction function. Will he implement measures sooner, slowing down the recovery in employment (so we get a Nike "swoosh"), or will he wait until fatalities/day reach some very high threshold, which then provokes a complete lockdown, and/or marked increase in risk-averse behavior?
For context, here is a graph of seven day moving average of fatalities per million inhabitants, on a log scale.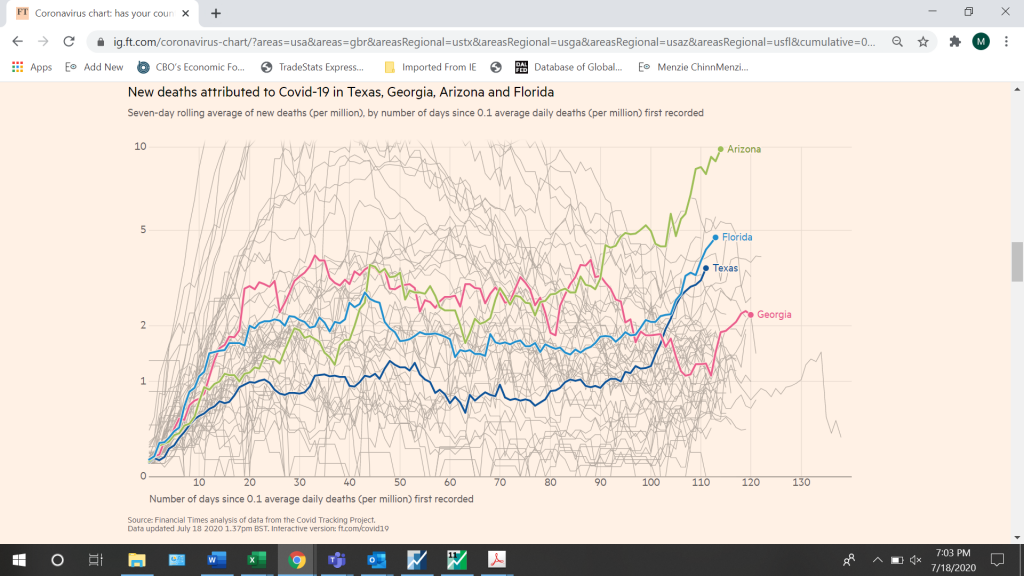 Source: FT, Coronavirus tracker, accessed 7/18/2020. Last observation is for 7/16.
Apparently, the Governor's threshold is above 3.6 fatalities/million per day (101.3 per day).
The current projection from IHME is that fatalities per day will reach 131 by end-July (point estimate). The IHME projection is in the lower half of projections tabulated by FiveThirtyEight.