In the latest conspiracy theory, some have argued that since only about 6% of Covid-19 fatalities state solely Covid-19 as a cause of death, pandemic fatalities are incredibly overstated. Inspection of the statistics suggest reported Covid-19 fatalities are, if anything, understating pandemic fatalities.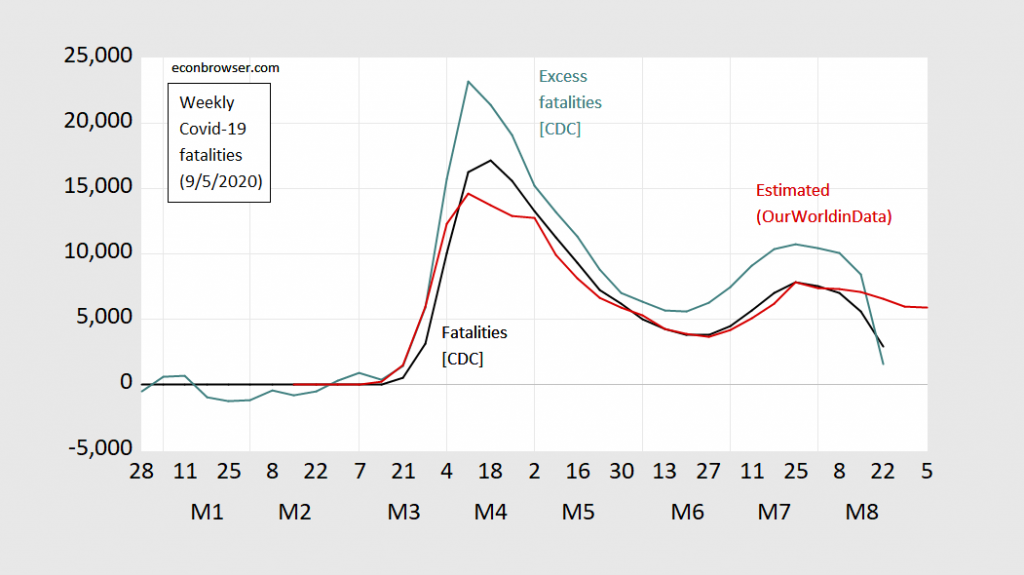 Figure 1: Weekly fatalities due to Covid-19 as reported to CDC for weeks ending on indicated dates (black), excess fatalities calculated as actual minus expected (teal), fatalities as tabulated by The Covid Tracking Project/Atlantic (dark red). Source: CDC accessed 9/5/2020 vintage, OurWorldinDate accessed 9/5/2020 and author's calculations.
From week ending February 29th through the week ending August 8th , the cumulative CDC fatality tally is 166.7 thousand. Cumulative excess fatalities is 226.1 thousand, implying an additional 59.3 thousand Covid-19 fatalities above the official tally over this period.
Notice that the unofficial tally declines slightly (per week), so the CDC data is clearly understating directly attributed and excess fatalities in the most recent data.
Update, 9/6:
If you're going to push a conspiracy theory forward, at least push forward a mathematically plausible one. If only 6% of CDC listed Covid-19 fatalities, then one has to explain the 226.1 thousand excess deaths over expected, or — if one is particularly suspicious of statistical methods, the 231.8 thousand deaths over and beyond what happened in the same time period in the previous year (2019). (All stats refer to week ending 2/29 through week ending 8/8.)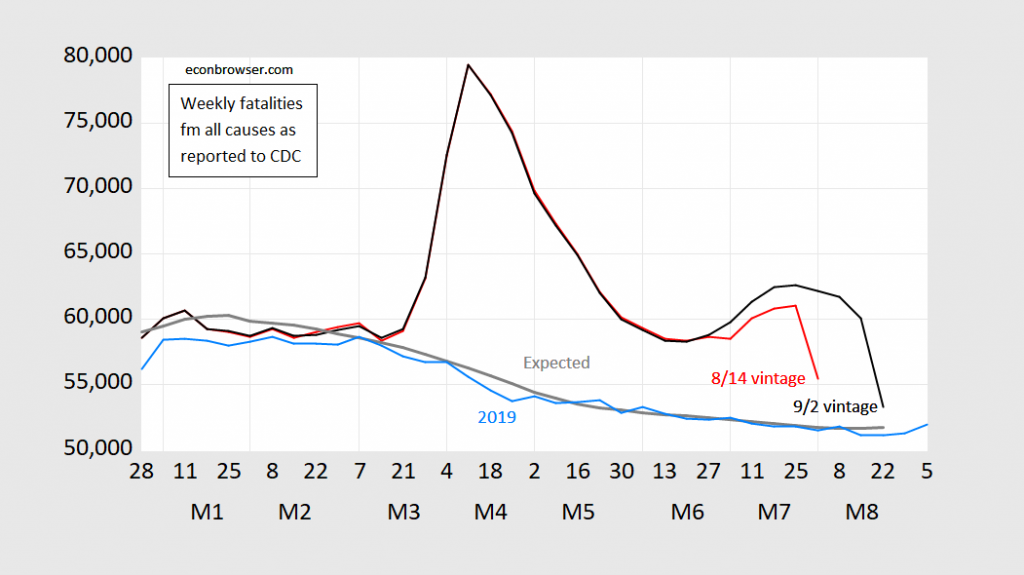 Figure 2: Weekly fatalities as reported to CDC for weeks ending on indicated dates reported in 9/2 vintage (black), reported in 8/14 vintage (red), expected fatalities in 9/2 vintage (gray), fatalities in corresponding period in 2019 (light blue). Source: CDC accessed 9/5/2020 vintage, and author's calculations.
Update, 9/7: