The WSJ and IGM/FiveThirtyEight forecast surveys [1] [2] are out. Mean forecasts from the WSJ are up (in levels).
Here's the most recent (mean) forecasts of levels, in the context of previous.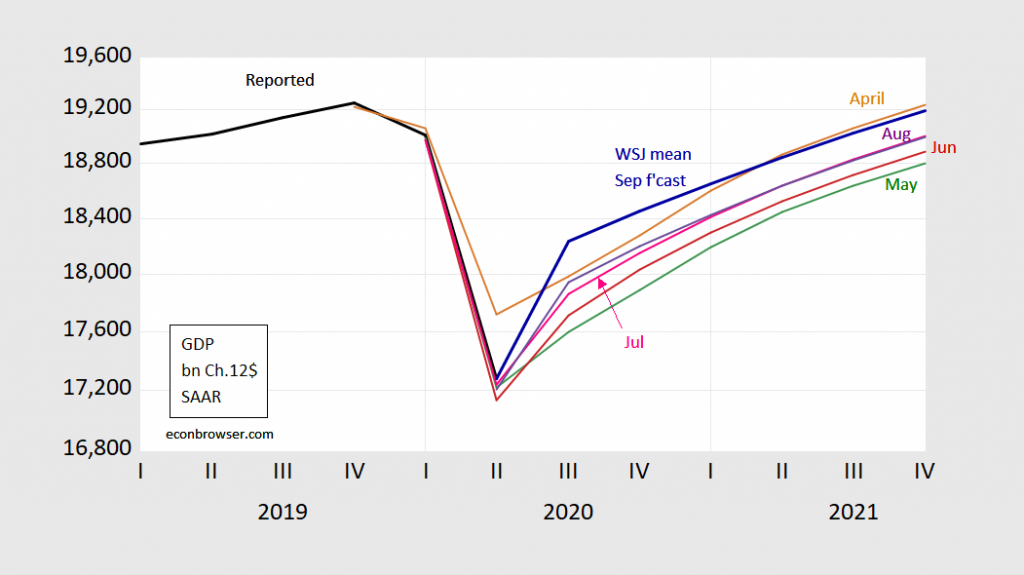 Figure 1: GDP as reported in 2020Q2 2nd release (black), WSJ April survey (tan), May survey (green), June survey (red), July survey (pink), August survey (purple), and September (bold dark blue) all in billions Ch.2012$, SAAR, all on log scale. Source: BEA, various vintages, WSJ survey, various vintages, author's calculations.
The upward movement in the trajectory of GDP from August survey to September largely arises from an upward revision in 2020Q3 growth (18.3% to 23.9%) even as growth declines from 5.9% to 4.9% and 5.0% to 4.4% in Q4 and 2021Q1 respectively (all SAAR).
In terms of most optimistic and pessimistic (for the rest of 2020), James Smith of EconForecaster retains his crown, while Amy Crew Cutts supplants Daniel Bachman of Deloitte (although both predict a W recovery, with a drop in Q4).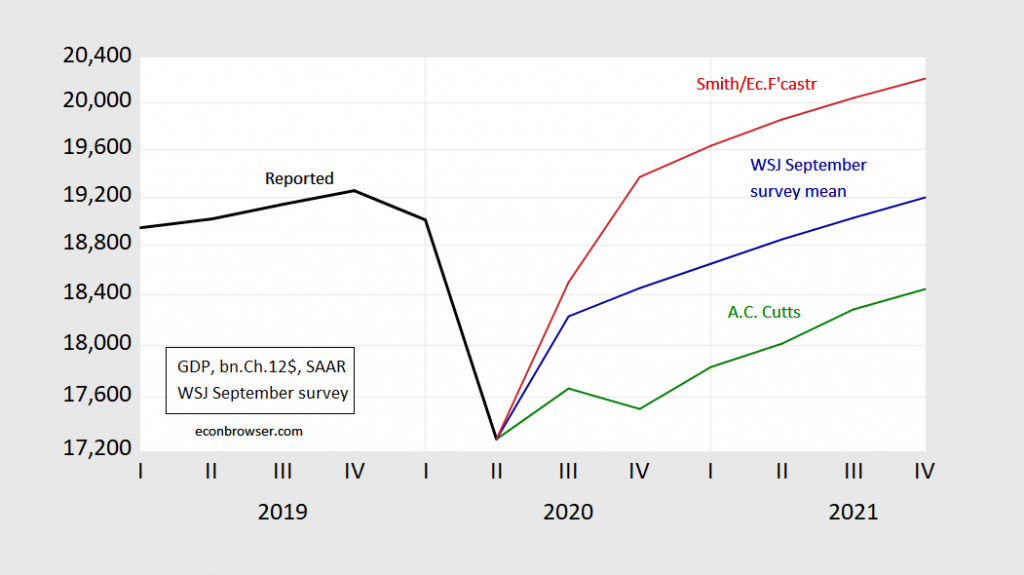 Figure 2: GDP as reported in 2020Q2 2nd release (black), James Smith/Economic Forecaster LLC (red), Amy Crew Cutts/A.C. Cutts & assoc.  (green), all in billions Ch.2012$, SAAR, on log scale. Source: BEA, 2020Q2 2nd release, August WSJ survey, and author's calculations.
Personally, I would think that as it becomes more and more apparent no Phase 4 recovery package is forthcoming, Q4 forecasts will be further downshifted.
The IGM/FiveThirtyEight results are discussed in "Economists Don't Think The Lower Unemployment Rate Signals A Clear Recovery" by Paine and Thomson-DeVieux:
After an August jobs report that yielded better-than-expected results for American workers, economists have a much sunnier outlook on unemployment through the end of the year. But that optimism isn't trickling into the rest of their economic forecasts — in part because there's still so much uncertainty about what the rest of the year will bring, and in part because the July 31 expiration of the $600-per-week payment for unemployed workers could already be leaving millions of Americans in dire economic straits.

…

"The surprisingly large drop in last month's unemployment rate is seen by our survey as not being a temporary blip, but as reflecting a more permanent decline," said Allan Timmermann, an economist at the University of California, San Diego who has been consulting with FiveThirtyEight on the survey.

The survey panel's projected unemployment rate for December, for instance, is 2 percentage points lower now than it was when we asked just a month earlier. And our panel currently thinks there is a 63 percent chance that unemployment will drop below 8 percent at some point between now and the end of the year.
While the perceived unemployment picture has brightened (before the latest unemployment insurance claims came out today), perceptions of GDP growth going forward into Q4 have not changed appreciably:
Even while our survey's forecasts for the December unemployment rate were being revised downward, the economists' outlook for fourth-quarter real GDP growth (a much broader measure of the overall recovery) has hardly budged over the past two weeks. The panel now thinks real GDP will grow at an annualized rate of 6.3 percent (quarter-over-quarter) at year's end, barely up from 5.8 percent on Aug. 24.

While that rate is higher than any of our survey's median forecasts since we began asking the question on June 8, the economists still think there's at least a 10 percent chance of negative real GDP growth in the fourth quarter — and their best-case3 forecasts have been stuck between 12 and 13 percent growth for a month now.
The detailed survey results are here, covering additional questions including differentials in labor outcomes by race, the impact on consumption of the cessation of extended UI benefits, among others. On the last question, the modal view is that consumption growth continues despite the lapse. However, roughly one-third of respondents (including me) think that there will be a reduction in consumption growth.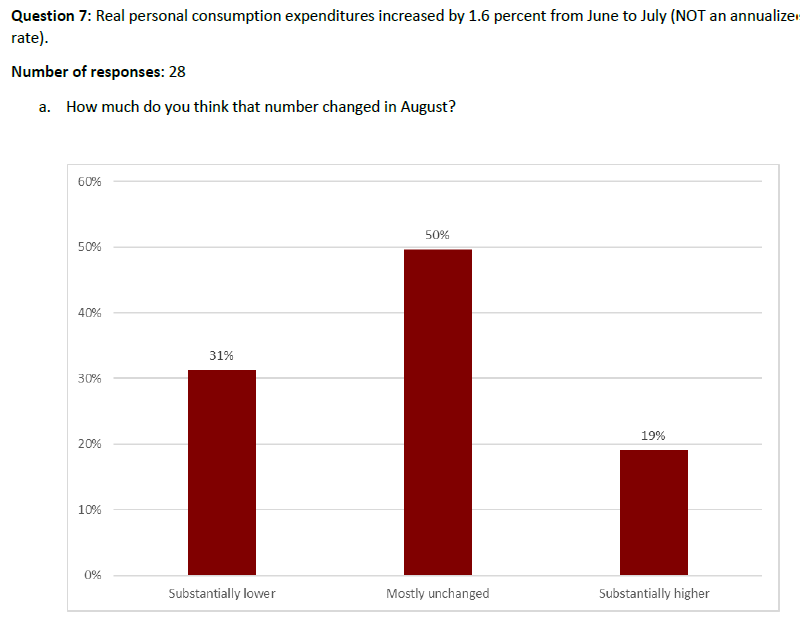 Source: IGM/FiveThirtyEight Covid-19 Economic Outlook Series Round 8.