From Torsten Slok, now at Apollo.
A survey of 457 New York City restaurants, bars, and nightclubs shows that 87% could not pay their full rent in August, up from 80% in June, see chart below. Of the 87% who could not pay their rent, 48% paid some of their rent, and of those, 49% paid half of their rent. The survey also shows that 40% of landlords have waived rent in relation to Covid-19. And for 43% of those restaurants, bars, and nightclubs that had their rent waived, the rent waived was 50%. With colder weather coming, this continues to be a difficult balance between keeping the virus under control versus limiting the economic damage. This trade-off also describes the US macro outlook, and we should expect a magnified negative seasonal impact on employment and GDP in Q4. Which is yet another good reason to expect the Fed to remain very dovish.
Here's the associated graphic: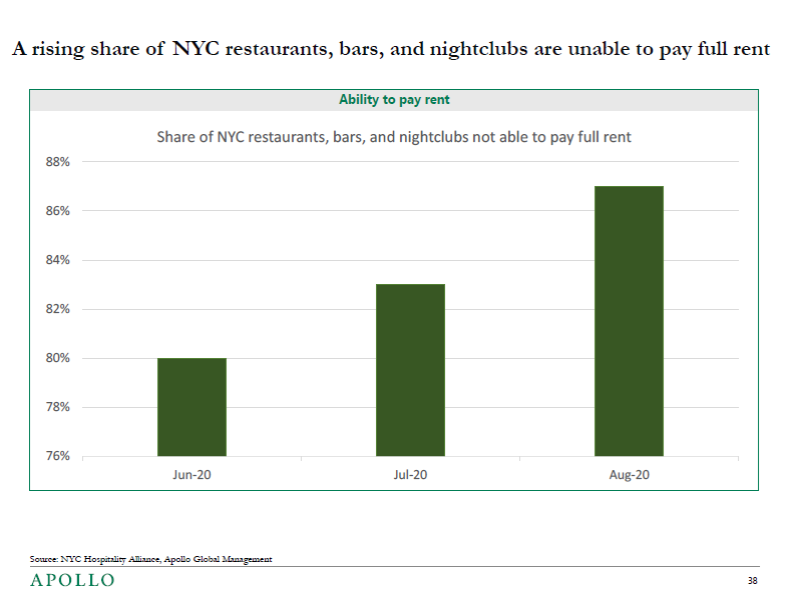 I think a good number of Republican policymakers think the crisis is over, given the economy is growing (although back to nowhere near 2019Q4 levels). They are wrong, particularly as it pertains to the food service sector, which accounted for about 20% of all February payroll employment in the US, on the eve of the pandemic's impact.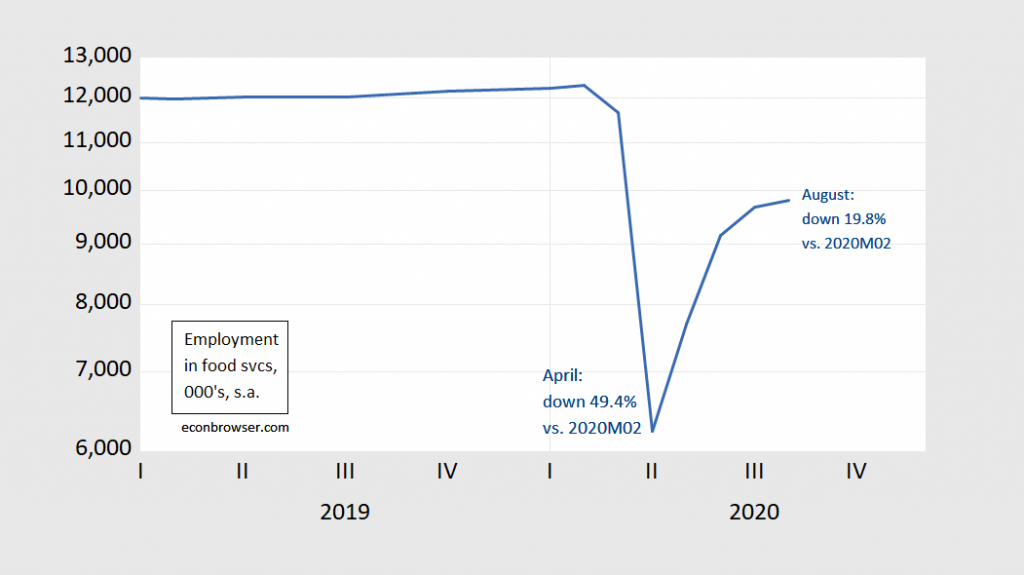 Figure 1: Employment in food services and drinking places, 000's, s.a. (blue). Source: BLS via FRED, and author's calculations. 
Employment growth was already flattening in early August; maybe there'll be a recovery in the statistics for early September – but going forward, it's going to look bad.
We need a policy to support this sector, while NOT increasing the transmission of Covid-19. If we can bail-out the airline industry to the tune of billions (CARES provided $50 billion), I think we can spare some funds for this sector.
Two personal observations:
While outside dining can continue elsewhere, with the exception of some hardy long-time Wisconsinites, I can't imagine outside dining in January in Madison.
A typical person working in the food services sector is not high income (it was true when my father worked his whole life in it, it's true now). If we truly want to allocate some resources to the lower-income deciles, then we should be even more in support of measures to buttress this industry and its employees.