Deceleration continues, according to some key indicators noted by the NBER's Business Cycle Dating Committee (BCDC).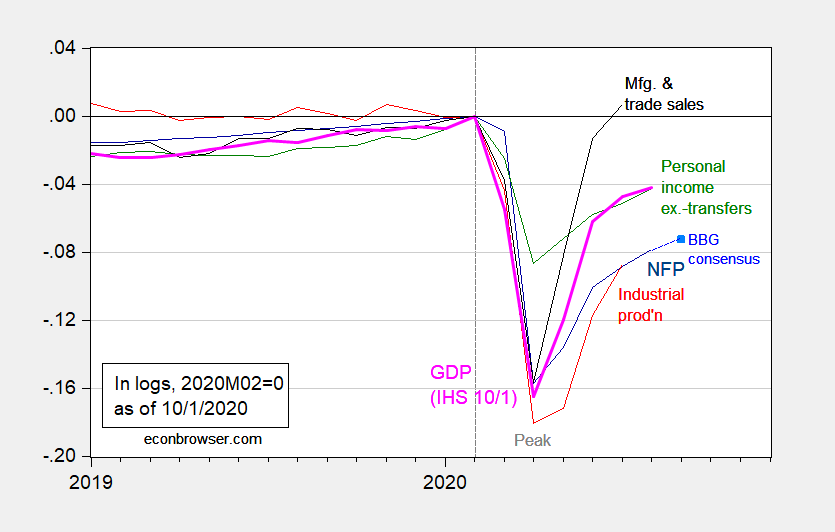 Figure 1: Nonfarm payroll employment (dark blue), Bloomberg consensus for September as of 10/1 (light blue square), industrial production (red), personal income excluding transfers in Ch.2012$ (green), manufacturing and trade sales in Ch.2012$ (black), and monthly GDP in Ch.2012$ (pink), all log normalized to 2020M02=0. Source: BLS, Federal Reserve, BEA, via FRED, Macroeconomic Advisers (10/1 release), NBER, Bloomberg, and author's calculations.
IHS/MarkIt provides a projection of the September GDP number consistent with their forecast for Q3: essentially 0% growth in September.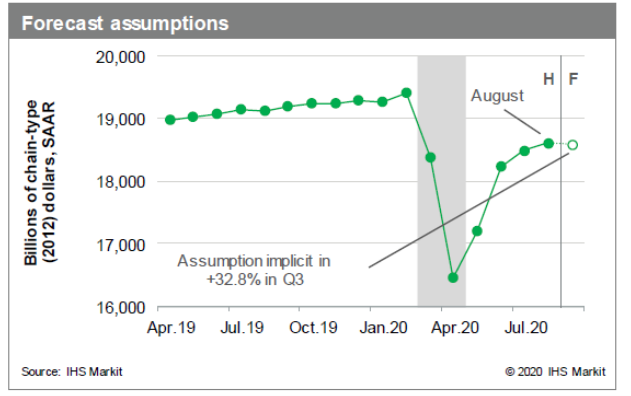 Source: IHS/MarkIt, October 1, 2020.
So, we are already decelerating rapidly along a number of dimensions, as passage of a pre-election package becomes ever more unlikely. Deutsche Bank's conditional forecast is zero growth on Q4. With the political — and hence policy — uncertainty possible in the election's wake, don't rule out another leg downward in economic activity.
If you're interested, lecture slides interpreting recession and output gap readings for my Econ 442 "Macro Policy" course, here.
Update, 4pm Pacific:
Reader rjs notes the rapid pace of consumption growth. This jump still leaves consumption 4% (log terms) below 2020M02 levels.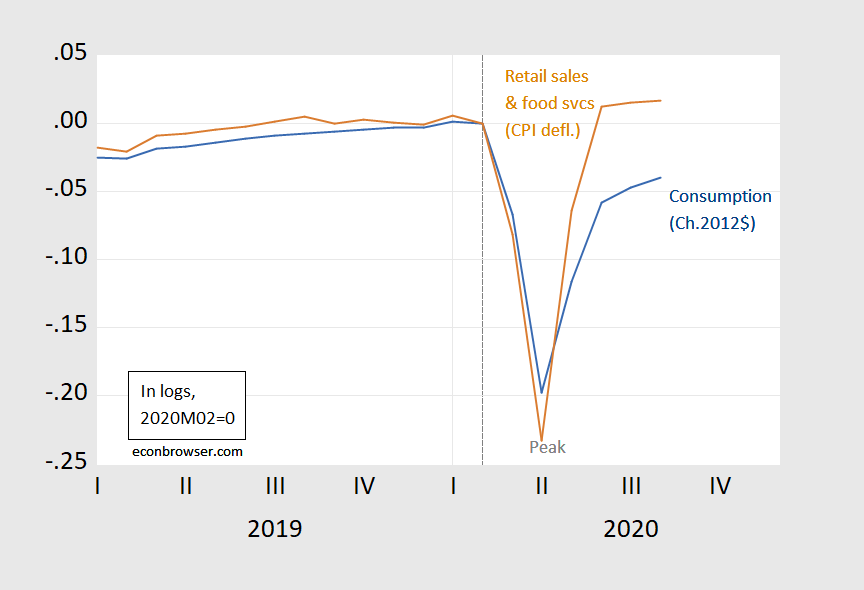 Figure 2: Consumption in Ch.2012$ (blue), and CPI-deflated retail and food service sales (brown), both in logs, 2020M02=0. Source: BEA, BLS via FRED, and author's calculations.