Baseline scenario is for continued — albeit moderating growth — at least according to the WSJ November survey. However, the reality of rapidly ascending Covid-19 caseload, hospitalization, and fatality rates may force a quick rethink. From The Hill today:
A sharp spike in COVID-19 cases across the U.S. is threatening the economic recovery and increasing the odds of a double-dip recession.

…

Economists across the political spectrum have consistently warned that sustained growth is dependent on getting the coronavirus under control, with many now viewing the rise in infections with heightened concern.

…

"Everything that is happening now, the risk of a resurgence in COVID-19 as well as policymakers walking away from stimulus negotiations — those two factors are what my team had feared would happen," said [Beth Ann] Bovino [Chief economist of S&P Global].

…

"It wouldn't be as large [a decline] as what we experienced in the first half of the year, but it would be a double dip," Bovino said.
The WSJ November survey reported only one forecast W-like: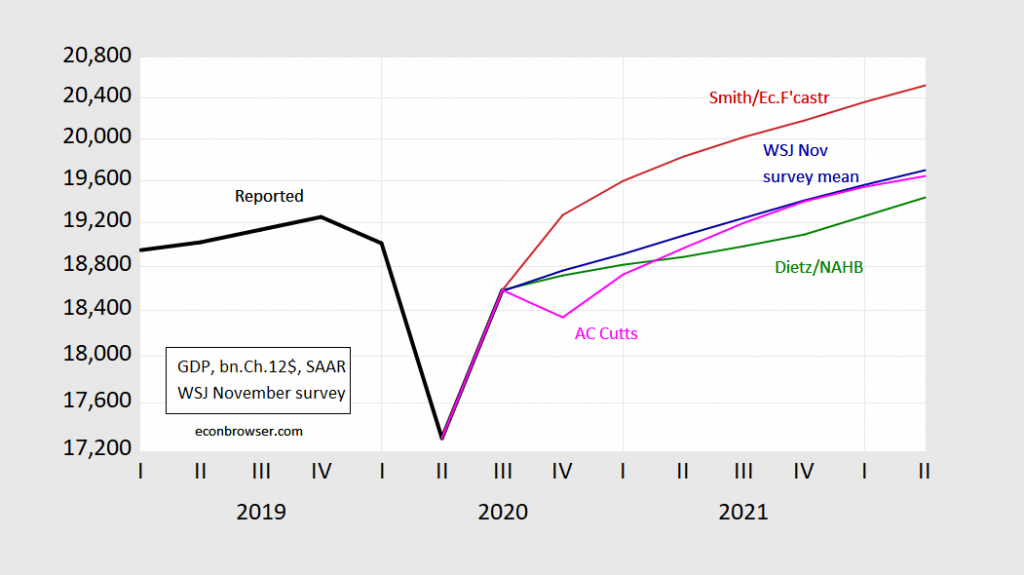 Figure 1: GDP as reported in 2020Q3 advance release (black), James Smith/Economic Forecaster LLC (red), Robert Dietz/National Assn of Home Builders (green), Amy Crew Cutts/A.C. Cutts & assoc.  (pink), all in billions Ch.2012$, SAAR, on log scale. Source: BEA, 2020Q2 3rd release, October WSJ survey, and author's calculations.
Conventional macroeconomic indicators lag too much to show an incipient slowdown. Forward looking indicators suggest a softening in consumer sentiment.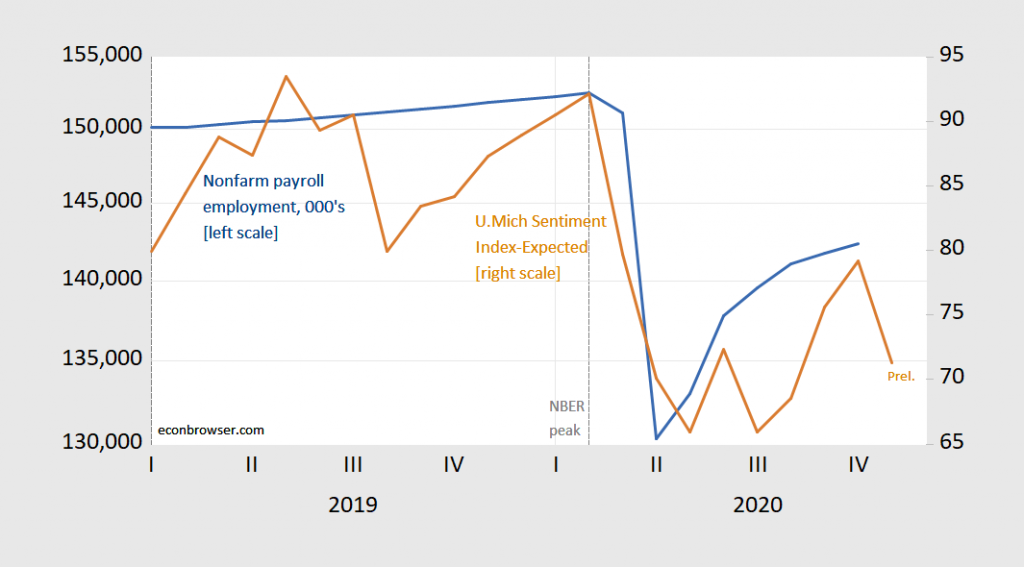 Figure 2: Nonfarm payroll employment, 000's, s.a. (blue, on left log scale), University of Michigan Sentiment Index-Future (brown, right scale). November figure is preliminary. Source: BLS via FRED, U.Mich., and NBER.
In my view, the decline in sentiment is unsurprising given the catastrophic failure in pandemic management.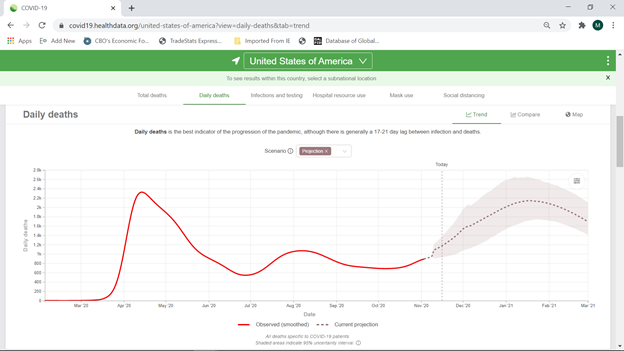 Figure 3: Baseline projection of 12 November 2020. Source: IHME, accessed 11/15/2020.
By the way, the "W" might not show up in quarterly GDP, but rather in monthly indicators…
Update, 11/16, 11:15am Pacific:
CDC ensemble indicates rising fatalities as well. Projections (weekly) below: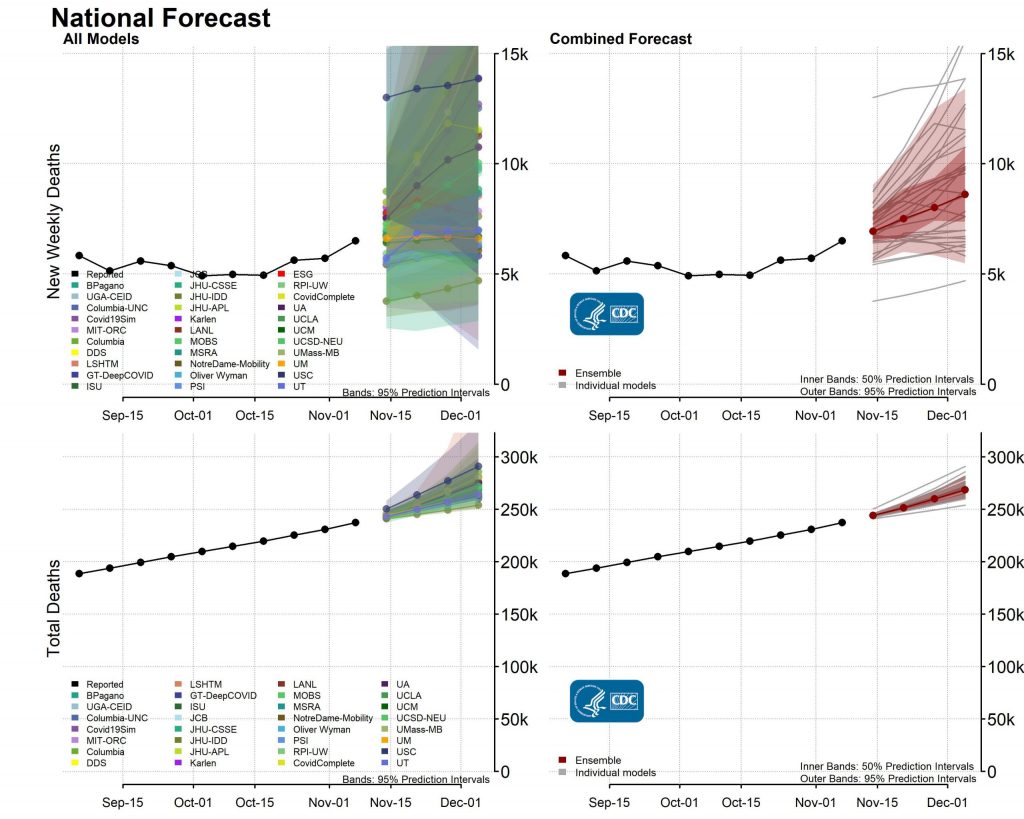 Source: CDC, accessed 11/16.
Update, 11/16, 3pm Pacific: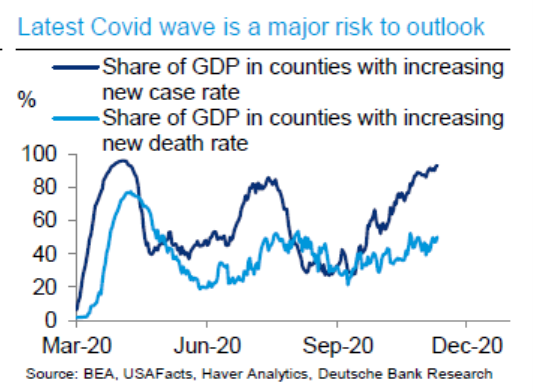 Source: DB Fed Watcher, November 16, 2020.