As of 11/29. Can you tell a difference?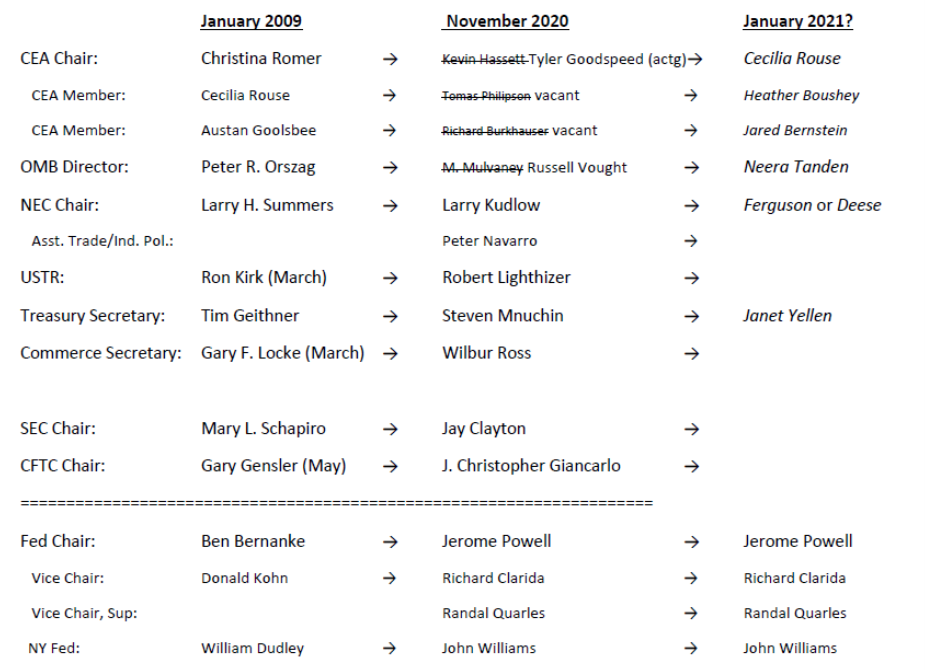 Corrections to Goodspeed (to actg chair), Vought (delete actg) 11/30.
Necessarily incomplete, and preliminary, based upon this article from The Hill. Note that John Cornyn has indicated his objection to Tanden to OMB.
All is summed up by Mnuchin to Yellen, Hasset to Rouse, Kudlow to Roger Ferguson or Brian Deese…
Addendum: Google Scholar – top cited articles/chapter (books otherwise):
Janet Yellen: Akerlof, George A., and Janet L. Yellen. "The fair wage-effort hypothesis and unemployment." The Quarterly Journal of Economics 105.2 (1990): 255-283. 2800 cites
Cecilia Rouse: Goldin, Claudia, and Cecilia Rouse. "Orchestrating impartiality: The impact of" blind" auditions on female musicians." American economic review 90.4 (2000): 715-741. 1824 cites
Heather Boushey: Boushey, Heather. ""Opting out?" The effect of children on women's employment in the United States." Feminist Economics 14.1 (2008): 1-36. 154 cites.
Jared Bernstein: Mishel, Lawrence R., Jared Bernstein, and Sylvia A. Allegretto. The state of working America 2006/2007. Cornell University Press, 2006. 548 cites.
Neera Tanden: Emanuel, Ezekiel, et al. "A systemic approach to containing health care spending." (2012): 949-954. 205 cites.
Roger Ferguson: Ferguson, Roger W. "Should financial stability be an explicit central bank objective." Challenges to Central Banking from Globalized Financial Systems (2003): 208-223. 267 cites.
Brian Deese: Birdsall, Nancy, John Williamson, and Brian Deese. Delivering on debt relief: From IMF gold to a new aid architecture. Peterson Institute, 2002. 199 cites.