Today we are pleased to present a guest contribution written by Roland Beck, Virginia di Nino and Livio Stracca (all at the European Central Bank). The views expressed belong to the authors and are not necessarily shared by the institutions to which the authors are affiliated.
---
Criticism against globalisation and European integration is often coined in terms of a trade-off between enhanced efficiency and social justice. According to this line of argument, globalisation tends to violate the Rawlsian principles of fairness as it raises incomes of a few while leaving parts of the society behind.
The literature on the effects of globalisation on inequality was so far mainly focused on trade, i.e. an area where the distributional effects are relatively well understood (See e.g. Ebenstein et al (2014) for advanced economies and Goldberg and Pavcnik (2007) for emerging and developing economies). However globalisation is a multifaceted concept and other aspects deserve comparable attention. A literature on the distributional effects of financial liberalisation has emerged recently (Furceri and Loungani, 2015; Furceri, Loungani and Ostry, 2019) while studies looking at the effect of membership in "Globalisation Clubs" have limited their focus to the effect of such organisations on trade, which is however not trivial to establish (Rose, 2004; Rose, 2005; Subramanian and Wei, 2007).
In a recent paper (Beck et al., 2021), we re-visit the effects of globalisation on income and inequality by identifying exogenous changes in countries' globalisation across a broad range of globalisation concepts including (i) accessions to "Globalisation Clubs" (ii) large financial liberalisation episodes and (iii) an external instrument for shifts in trade openness. This allows us to not only address endogeneity concerns to a large extent, but to also speak to the policy debate surrounding membership in organisations considered in our first definition of globalisation.
Our list of Globalisation Clubs includes the WTO, the EU and the OECD, which all require their members to pursue some form of either liberal trade or investment policies or a combination of both. In order to isolate the effects of financial openness shocks, we also look at pure financial openness shocks based on large changes in a popular measure of de jure financial openness as reported originally in Chinn and Ito (2006). In another robustness check, we use a Bartik-type instrument aimed at capturing "trade openness shocks" that are exogenous for individual countries, where we interact pre-determined exposures to international trade with the global rise in trade which is an exogenous change for most countries.
In all specifications, we take past growth of total factor productivity (TFP) into account, with the objective to disentangle trade integration from skill-biased technological change, which is otherwise difficult to separate from globalisation (Acemoglu, 2002). In addition, we control for several political and economic factors so that our episodes can be largely considered as globalisation shocks.
We find that most of our "globalisation shocks" lead to a significant increase in trade openness – a prerequisite for considering them as globalisation shocks in the first place. Second, the effects on per capita income are mixed according to our estimates. Most notably, we find little evidence that globalisation shocks lead to more inequality. The Gini coefficients pre- and post-redistribution tend not to change or even to fall in the wake of a globalisation shock (see Figure 1 for WTO accessions).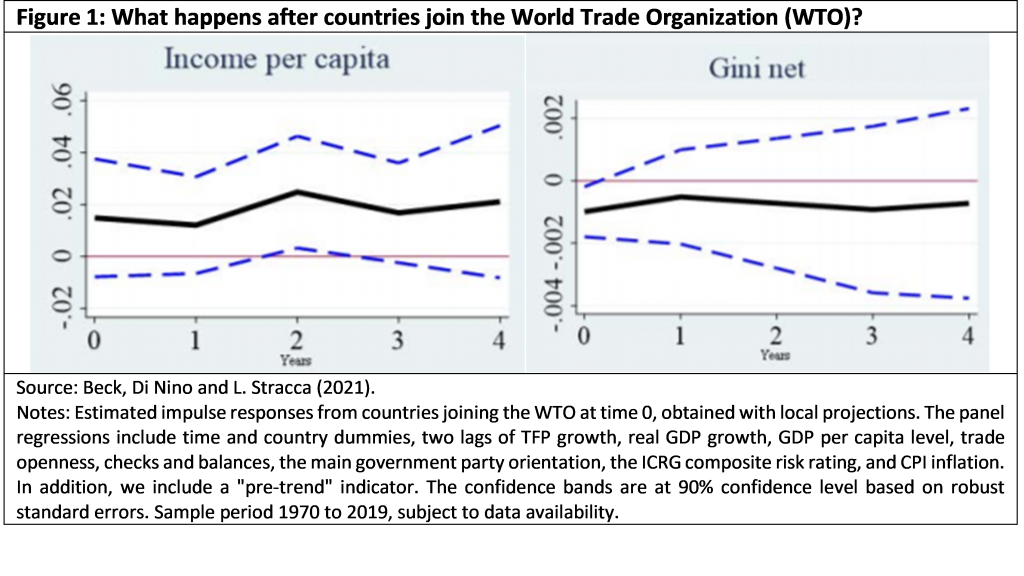 This finding also holds when considering alternative concepts of globalisation, when splitting our sample into advanced and emerging economies and when we limit it to the post-1995 era of "hyper-globalisation". Taken together, our results point to mostly positive effects of globalisation shocks, and challenge the view that globalisation necessarily brings about an undesirable efficiency-equity trade-off.
References
Acemoglu, D., 2002, "Technical Change, Inequality, and the Labour Market", Journal of Economic Literature, 40(1):7-72, March.
Beck, R. Di Nino, V. and L. Stracca, 2021, "Globalisation and the efficiency-equity trade-off", ECB Working Paper No. 2546.
Chinn, M.D. and H. Ito, 2006, "What Matters for Financial Development? Capital Controls, Institutions, and Interactions", Journal of Development Economics, 81(1):163-192, October.
Ebenstein, A., A. Harrison, M. McMillan, and S. Phillips, 2014, "Estimating the Impact of Trade and Offshoring on American Workers using the Current Population Surveys", The Review of Economics and Statistics, 96(4):581-595.
Furceri D. and P. Loungani, 2015, "Capital Account Liberalization and Inequality", IMF Working Papers, International Monetary Fund, November.
Furceri, D., P. Loungani, and J. D. Ostry, 2019, "The Aggregate and Distributional Effects of Financial Globalization: Evidence from Macro and Sectoral Data", Discussion Paper 14001, CEPR, September.
Goldberg, P.K. and N. Pavcnik, 2007, "Distributional Effects of Globalization in Developing Countries", Journal of Economic Literature, 45(1):39-82.
Rose, A. K., 2005, "Which International Institutions Promote International Trade?" Review of International Economics, 13(4):682-698.
Rose, A. K., 2004, "Do We Really Know That the WTO Increases Trade?", The American Economic Review, 94(1):98-114.
Subramanian A. and S.-J. Wei, 2007, "The WTO Promotes Trade, Strongly but Unevenly", Journal of International Economics, 72(1):151-175.
---
This post written by Roland Beck, Virginia di Nino and Livio Stracca.