The FOMC has upped its expectations of PCE inflation [Politico] [CR]. Here's latest available CPI inflation expectations.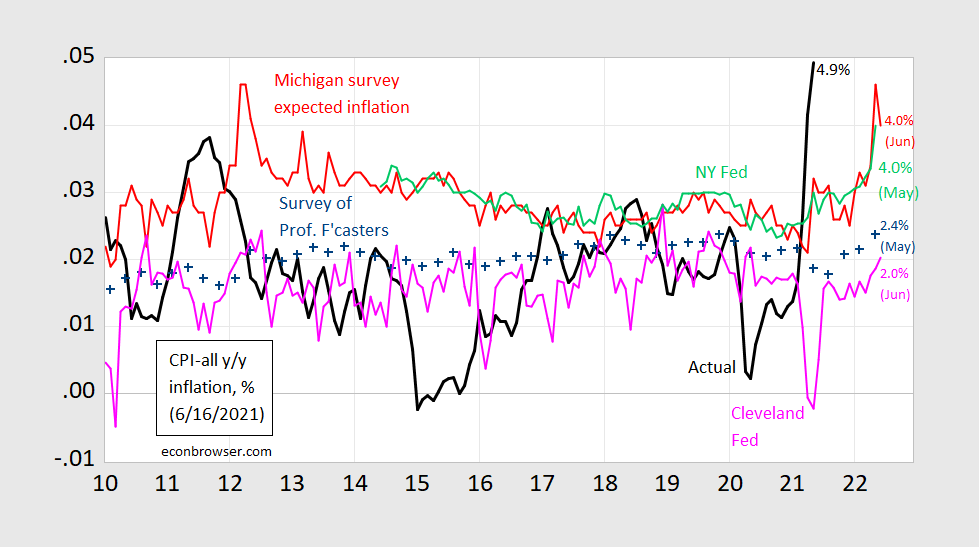 Figure 1: CPI inflation year-on-year (black), median expected from Survey of Professional Forecasters (blue +), median expected from Michigan Survey of Consumers (red), median from NY Fed Survey of Consumer Expectations (light green), forecast from Cleveland Fed (pink). Source: BLS, University of Michigan via FRED, Reuters, Philadelphia Fed Survey of Professional Forecasters, NY Fed, and Cleveland Fed.
The NY Fed's measure rose from 3.36% in April to 3.4% in May – lower than the Michigan May reading of 4.6%.
It's important to recall that household surveys of inflation (Michigan, NY Fed) register typically higher expected rates than economist surveys (e.g., SPF), and recently have been higher than hybrid market based/survey based surveys (Cleveland). Looking at the changes in expected inflation going from November 2020 to May, the NY Fed and Michigan rates have risen by 1.04 and 1.8 percentage points, contrasting strongly with the rise in the SPF of only 30 basis points.
The Fed targets the PCE deflator. Over the last 20 years, the PCE deflator has grown about 30 bps faster than the CPI. This is true since the pandemic struck (2020M03 to 2021M04).